Lufthansa cancels flights as crew stage third strike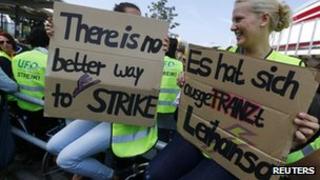 Lufthansa has cancelled hundreds of flights for Friday as cabin staff stage another one-day strike at Germany's three busiest airports.
The strike was called by the UFO union on Wednesday for Frankfurt, Munich and Berlin airports.
Lufthansa has cancelled short and medium-haul flights but also services to and from Shanghai, Jakarta, Seattle and Los Angeles.
UFO and Lufthansa are arguing over pay and working conditions.
The union represents about two-thirds of Lufthansa's 19,000 cabin crew.
Union leaders are seeking a pay increase of 5% for cabin staff for 15 months, starting from January this year. They said there had been no pay increases for three years.
They also want guarantees that Lufthansa will not outsource jobs or use more temporary workers, as it has in Berlin.
Earlier, Lufthansa spokesman Klaus Walther said that the airline had offered to stop fixed-term contracts and halt the use of temporary staff, but the airline is only proposing a 3.5% rise in salary.
Lufthansa is currently undergoing a 1.5bn euro (£1.2bn) cost-cutting programme to offset rising fuel costs and tackle competition from low-cost and Gulf carriers.
The airline posted a 24% drop in second-quarter profits to 229m euros compared with a year earlier. In May, it announced it would axe 3,500 office jobs.
Lufthansa flies in the UK from Aberdeen, Edinburgh, Manchester, Birmingham, Heathrow, Gatwick and London City to the affected airports in Germany.