Longer working week suggested for Greece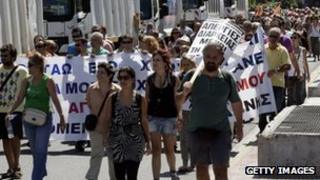 Greece's international lenders have suggested measures including increasing the maximum working week to six days.
It is one of several unofficial proposals to liberalise the labour market and increase government revenue, contained in a paper seen by the BBC.
The proposals were not included in the original bailout agreement signed with the Greek government.
Inspectors from the EU, IMF and European Central Bank, known as the troika, are due in Greece this week.
They are writing a report, due in October, that will decide whether Greece receives its next instalment of bailout funds.
Greece needs the next payment of 31.5bn euros ($39.6bn; £24.9bn) to allow it to continue servicing its debts.
Proposals in the document from the troika included:
Setting a single rate statutory minimum wage
Reducing regulatory burdens
Making work schedules more flexible
Setting a minimum daily rest of 11 hours
Eliminating restrictions on the minimum and maximum time between morning and afternoon shifts.
Also, on Wednesday, German Finance Minister Wolfgang Schaeuble ruled out a third package of aid for Greece, but stressed that it would be staying in the eurozone.
"The costs for Greece are already very high and therefore we cannot have a new programme for Greece," he told German radio.
Greece was given a 110bn-euro package in May 2010 and a further 130bn euros in October 2011, along with a 100bn-euro debt write-off.
European President Herman Van Rompuy is due to meet Greek leader Antonis Samaras on Thursday.
Euro bailout
The International Monetary Fund (IMF), the European Central Bank (ECB) and the European Commission - the group of donor bodies known collectively as the "troika" - are examining whether Greece is making sufficient progress towards reforming its public finances.
Greece is currently trying to finalise a package of 11.5bn euros ($14.4bn; £9.1bn) of spending cuts over the next two years.
It is also being asked to put in place economic and structural reforms, including changes to the labour market and a renewed privatisation drive.
The measures are needed to qualify for the next 33.5bn-euro instalment of its second 130bn-euro bailout.
Greece needs the funds to make repayments on its debt burden. A default could result in the country leaving the euro.