Easyjet to introduce allocated seating for passengers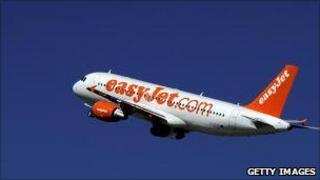 No-frills airline Easyjet has said it will introduce allocated seating in its planes from November.
The carrier said that introducing allocated seating would improve customer satisfaction and attract more passengers.
Customers will still be able to pre-book seats, such as with extra leg-room, for a fee, but the majority will get free allocated seats at check-in.
Easyjet tested the scheme, and found that 70% of customers preferred it.
The airline said the change would have no material impact on costs. "This is not about revenue-generation, but about customer satisfaction," said a spokesman.
In the battle to attract more passengers during tough economic times, Easyjet has been trying to win over more business travellers.
Charging to book seats has been a traditional feature of no-frills airlines.
But passengers have complained about the rising fees, and many families feel it is a "hidden charge" if they want to sit together.
Easyjet will charge £12 if someone wants to pre-book seats with extra leg-room, £8 for a seat in the front rows, and £3 for any other seat.
All other passengers will be issued seat numbers with boarding passes rather than have to choose a seat on the aircraft.