Government to warn businesses about cyber crime threat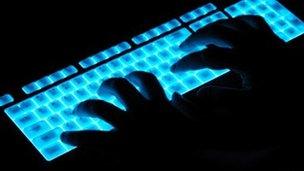 The government is issuing advice to British business leaders on how to protect themselves from cyber threats.
At a conference at the Foreign Office, ministers and officials from the communications intelligence agency, GCHQ, will tell companies to create a more security-conscious culture.
It is estimated that UK businesses lose £21bn a year to cyber crime.
Banks, manufacturers, energy suppliers and broadcasters are among those attacked this year, officials say.
Government departments, engineering firms, academic institutions and even charities have also come under attack.
However, a survey in May by BAE Systems Detica suggested nearly nine out of 10 UK businesses were very or fairly confident about their defences.
Iain Lobban, the head of GCHQ will tell business leaders that such confidence is misplaced with potentially major implications for the economy and customers trust in online services.
He will ask board members and chief executives how confident they are that their company's most important information is safe from cyber threats and whether they are aware of the impact on a company's reputation, share price or even existence if sensitive information is stolen.
The meeting will be addressed by William Hague, the foreign secretary, and Vince Cable, business secretary.
It is expected that delegates will hear examples of how companies have lost intellectual property and millions of pounds through cyber attacks.
Last June the head of UK security agency MI5 said it was battling "astonishing" levels of cyber-attacks on UK industry.
Jonathan Evans warned internet "vulnerabilities" were being exploited by criminals as well as states.
Separately, intelligence agencies on Wednesday called for closer co-operation with companies operating in sectors that could help them identify cyber criminals and terrorists.
MI5 and GCHQ said they were particularly keen to hear from small and medium-sized firms that could provide them with the technology to deal with threats to the national interest.
Companies can make proposals via a website, and those with potential could get development funding.
It is thought to be the first time that the intelligence services have made such a plea for help.
"We want to hear from anyone with novel and innovative ideas to address our challenges, and in particular small- and medium-sized enterprises."
Related Internet Links
The BBC is not responsible for the content of external sites.