Sales rise at Greene King and Spirit pub chains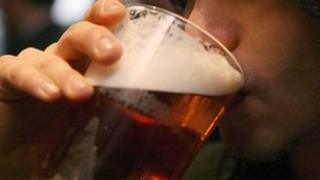 Pub chains Greene King and the Spirit Pub Company boosted sales over the summer despite the wet weather.
Suffolk-based brewer Greene King said like-for-like sales rose 5.1% over the past 18 weeks, while Chef & Brewer chain owner Spirit saw like-for-like sales climb 4.1%.
Food sales rose 5.5% during the quarter at Spirit, and 5.2% at Greene King.
Both firms said the Olympics had disrupted trade, but the poor weather was not a dampener on business.
Greene King said like-for-like sales at its drinks division rose 5%, with like-for-like sales at the hotels division rose 4.9%.
Total beer volumes were up 0.4% at Greene King.
Its Old Speckled Hen and Greene King IPA beer, which was relaunched in April, saw good volume growth, Greene King said in a statement.
Greene King said the Olympics had a "minimal net impact" on its overall retail performance, with its pubs in London, the City and the West End "generally quieter".
"Underlying trading trends across the business have been maintained through the summer, despite the disappointing weather," it said.
Meanwhile, Spirit, which also owns the Fayre & Square and Flaming Grill chains, said like-for-like drink sales were up 3.3% in the quarter to 18 August .
Spirit said it had also changed the way it valued its pub estate.
Its properties are now valued at £1.3bn, £0.5bn lower than in April. However, Spirit said this would have no impact on cash flow.
Its leased estate division proved a weak spot, with like-for-like net income down 5.4% for the quarter. Spirit blamed rent rebasing for the fall.
Spirit chief executive Mike Tye said the quarter proved a strong finish to the year despite "the poor summer weather and the disruption caused by the Olympic Games".
"We continue to perform in line with expectations and are making good progress towards realising the full potential of our business," he added.