Hyundai union members vote in favour of new wage deal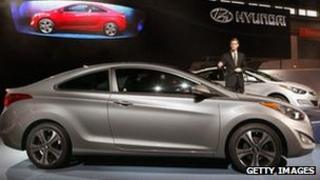 Members of Hyundai Motor's labour union have voted in favour of a new wage deal, ending the costliest labour dispute in the firm's history.
Under the deal, Hyundai has agreed to scrap night shifts and increase basic salaries by 5.4% and a bonus equal to 350% of basic pay this year.
Staff will also get a one-time payout of 9.6m won ($8,500; $5300).
The dispute is estimated to have cost Hyundai, South Korea's biggest carmaker, 1.7tn won in lost production.
Workers have staged various strikes since July this year, cutting production by more than 82,000 vehicles.
"Hyundai Motor management is pleased that the labour union members approved the agreements made last week, putting an end to the strikes," Hyundai said in statement.
"Our priority now is to normalize production and fulfil customers' expectations."
Hyundai has said that it plans to invest 300bn won to upgrade its manufacturing facilities to help maintain its output level after the night shift is scrapped from March next year.