Fortescue cuts spending and jobs as iron ore prices dip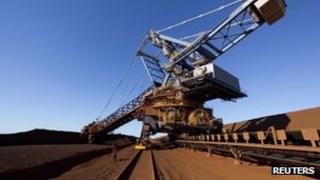 Fortescue Metals Group has become the latest Australian miner to put its expansion plans on hold amid slowing demand and falling iron ore prices.
The firm said it will defer the development of its Kings deposit and the completion of its fourth berth at Herb Elliott Port.
It will also cut its staff strength and reduce operational costs.
Last month, BHP Billiton said it will delay plans to expand its Olympic Dam mine.
Fortescue said the delay in expansion plans will help cut its capital expenditure for the current financial year by $1.6bn (£1bn).
It said that it planned to save another $300m by cutting jobs and lowering operational costs.
"These measures reflect the company's ability to reduce and delay cash expenditures to meet market conditions and provide us with head room in the event of further deterioration of iron ore prices," said Nev Power, chief executive officer of Fortescue.
Unsustainable situation?
Australia's miners have enjoyed a boom period over the past few years, fuelled by a surge in demand from Asia, especially China.
However, growth in China has slowed in recent months, hitting a three year low in the second quarter.
That has led to a fall in demand and prices of commodities such as iron ore. The price of iron ore has fallen almost 30% in just the last two months.
That has not only hurt profits of the miners but also raised concerns about their future growth.
"In the mining sector, the recent sharp decline in commodity prices has caused profits to deteriorate significantly, such that miners are now spending more in capital expenditure than they are earning," Credit Suisse analysts Damien Boey and Atul Lele said in a note.
"This is not a sustainable situation, and if commodity prices do not recover very strongly, we would expect to see (and indeed, are already seeing) projects being deferred, if not cancelled outright."
However, Fortescue said that it expected demand from China to pick up and provide a boost to iron ore prices.
"We are confident that the underlying fundamentals of the Chinese economy are strong and we believe iron ore prices will rebound in the medium term."