Andalusia requests 1bn euros from Spanish government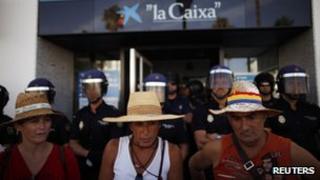 Spain's Andalusia has become the latest region to request a financial lifeline from the central government.
The region had asked for 1bn euros (£791m) worth of aid to be granted immediately, said Susana Diaz, a senior politician from the region.
Valencia, Murcia and Catalonia have requested bailouts in recent weeks.
Meanwhile, Spain said that it will immediately inject 4.5bn euros into Bankia, the lender that the government was forced to part-nationalise in June.
Bankia was created in 2010 from a merger of seven troubled regional savings banks, but was rescued this summer when it was on the verge of collapse.
"By this measure, we restore the group's regulatory capital while the restructuring plan is completed and guarantee the security of deposits and the group's access to all possible sources of financing," Spain's bank bailout fund said.
Regional bailouts
Last week, Valencia said it would ask for 4.5bn euros in bailout money, more than had been suggested when it first made the plea earlier this summer. Debt-ridden Catalonia has asked for a bailout of 5bn euros, while Murcia has said it will need 300m euros.
A 18bn-euro public fund was set up by Madrid to aid its 17 autonomous regions, which are in deep debt.
The conditions which the Spanish government will impose on loans from the fund have not yet been announced.
But Mario Jimenez, the spokesman for the Socialist Party (PSOE) in Andalusia's left-leaning coalition government, warned against trying to impose a "corralito", which refers to capital controls and harks back to Argentina a decade ago, when its government froze bank accounts in order to prevent bank runs.
"What shouldn't happen is to run the financing of the autonomous communities like a corralito," he said.
The Andalusian government is exploring "various and diverse" mechanisms that would guarantee liquidity in the community, including the central government aid or going to the financial markets, he added.
As a nation, Spain's struggling economy has declined for three consecutive quarters, as it continues to suffer from the effects of its property bust caused by the financial crisis.
Bad debts
Speculation has persisted that the country will have to request a full financial rescue.
In June, Spain requested 100bn euros of loans from the eurozone's bailout fund to help support its banks, which are struggling with bad debts from loans made in the property sector.
But in the latest development, Economy Minister Luis de Guindos said on Monday that struggling banks are unlikely to tap all of the rescue money, which he expects will become available in early November once banks release their restructuring plans due this month.
"In principle, it looks like not all of 100bn [euros] will be used," he told local radio station Onda Cero.
In an apparent bid to appease investor confidence, he insisted that no further austerity measures would be needed to plug the the country's deficit. The government in July announced tax increases and spending cuts totalling 65bn euros.
"Spain has already set out a path which is sufficient for the problems we face," he said, adding that Spain was on course to slash its budget deficit to 6.3% of GDP this year from 9% last year.
German Chancellor Angela Merkel is due to visit Madrid on Thursday for talks with Prime Minister Mariano Rajoy about Spain's progress in its reform plans.