RBS computer failure needs clear redress, says MP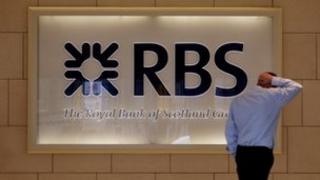 Customers affected by the computer failure at RBS in June must be given "clear and straightforward" information on compensation, an MP has said.
Andrew Tyrie, chairman of the Commons Treasury Committee, also said that other banks should be checking their IT systems.
A software upgrade failure led to a huge backlog in updating customers' balances at the banking group.
RBS has already said it has set aside £125m for customer redress.
'Confusion'
Account holders at RBS and NatWest faced disruption for about two weeks owing to the problems.
However, customers of the Ulster Bank subsidiary witnessed the fallout affecting their accounts for even longer.
"The recent IT failure at RBS Group affected millions of individuals and a wide range of businesses in the UK and Ireland," said Mr Tyrie.
"It was not just RBS customers who suffered. The problems, and the confusion they caused, threatened to infect the rest of the banking system. For some, the consequences were very severe."
He said that access to funds was crucial. The IT problems and the confusion caused, did little for public confidence in the banks, he added.
"Those affected now need clear and straightforward information to enable them to seek redress," he said.
"Every bank should be checking its IT systems. We need to have confidence that such a failure cannot happen again."
Compensation scheme
Mr Tyrie praised RBS chief executive Stephen Hester for taking full responsibility for the failure.
In an exchange of letters, Mr Hester apologised for the incident but said that a large number of inquiries were dealt with instantly by branch and call centre staff.
He has accepted that the time taken to clear the mess caused by the computer failure had been "unacceptable".
Last week, Ulster Bank announced details of a compensation scheme for customers who were affected. It will reimburse all of what it terms "reasonable out-of-pocket expenses" resulting from the major disruption which affected thousands of customers.
It will be refunding charges placed on people's accounts in error.
Customers will receive £20 if they visited the bank from 19 June to 18 July and made a transaction. This is a payment for inconvenience caused.