Sharp shares slide on report it cut Hon Hai sale price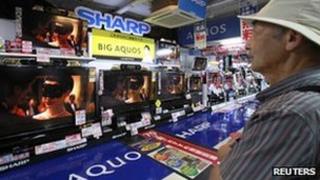 Shares of Japan's Sharp have dipped after a report that it had offered to lower the price of its stake sale to Taiwan's Hon Hai Precision Industry.
Hon Hai had agreed a deal to buy a 9.9% stake in Sharp at 550 yen per share in March.
However, Sharp's shares have plunged 66% since and the Nikkei newspaper reported that the sale will be based on an average stock price instead.
Sharp shares fell as much as 8% to 182 yen in Tokyo on Monday.
This follows a 13% plunge on Friday after the firm's credit rating was cut to "junk" status by ratings agency Standard & Poor's.
A "junk" credit rating means some institutions may no longer invest in the company, prompting many shareholders to offload its stock.
To make matters worse, S&P warned that its credit rating for Sharp could fall further if the company's earnings and cashflow did not improve.
'Hoping to settle'
Shareholders have also been worried about the outcome of the proposed tie-up between Sharp and Hon Hai.
Under the terms of the deal, Hon Hai would pump about $800m (£500m) into Sharp in return for a near 10% stake in the Japanese consumer electronics maker.
However, there have been growing concerns that the deal may not happen at all.
Those fears were fanned further after Terry Gou, the chairman of Hon Hai, left Japan last week without an agreement between the two firms being finalised.
On Monday, the Reuters news agency reported that Sharp's President Takashi Okuda, was planning to visit Taiwan in a bid to finalise the deal.
"We can't disclose our executives' schedules, but we are hoping to settle the negotiations as early as possible," Sharp spokeswoman Miyuki Nakayama was quoted as saying by Reuters.