Credit Immobilier has assets guaranteed by France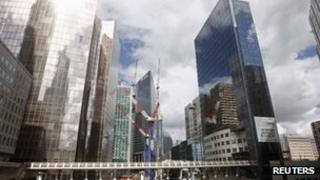 Struggling French mortgage lender Credit Immobilier has had its assets guaranteed by the government.
Credit Immobilier needs to pay out 1.75bn euros (£1.4bn) in October, but is finding it difficult to tap the financial markets to fund itself.
The lender does not take deposits from savers.
The French Finance Ministry said that "this very specific model" had been weakened by the eurozone debt crisis and new bank rules.
"To help the group CIF to respect its commitments, the state has decided to respond favourably to its request for a guarantee," the Finance Ministry said.
"This guarantee will be put in place under the reserve of approval from the European Commission and parliament."
French newspaper Le Figaro suggested that a winding-up of the group was the most likely outcome.
Earlier this week, French bank group Credit Agricole reported a dip in profits following the continuing problems in the eurozone.