Profile: Roman Abramovich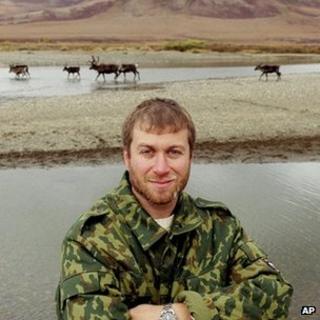 Chelsea Football Club owner Roman Abramovich is a very wealthy man.
He is listed as the 68th richest man in the world by the influential Forbes magazine, which estimates him to be worth $12.1bn (£7.6bn).
Now aged 46, he was largely unknown outside Russia until 2003 when he snapped up English Premier League football league club Chelsea.
Fans of the west London club, then owned by Ken Bates, were hugely grateful to Mr Abramovich, who not only cleared their debts but started a massive programme of investment in players.
He hired one of Europe's most sought-after managers, Porto's Jose Mourinho - who announced himself as "The Special One" at his introductory press conference - and in 2005 Chelsea won the title, a feat they repeated the following year and again in 2010.
Earlier this summer they also managed to win the European Champions League - beating Bayern Munich on penalties - after years of trying.
But football is only one of Mr Abramovich's passions.
He is also an art collector, a politician and, above all, a businessman.
Plastic toys
His meteoric rise is all the more incredible considering he lost both parents before he was four years old.
He was adopted by his uncle and grew up in Moscow.
He told a London court this summer how he left school at 16, worked as a mechanic and had a stint in the Red Army before beginning his business career selling plastic toys.
In the early 1990s, when he was still in his 20s, he spotted an opportunity to make money following the collapse of the Soviet Union.
He began trading in oil and gas, resources which Russia was only starting to fully exploit.
Law degree
During the 1990s Mr Abramovich gradually took control of a number of Russian oil assets, which had already been privatised.
He was the major shareholder in Sibneft, which later merged with Yukos to become the world's fourth largest oil company.
He bought and sold other assets, reputedly selling a large share in the Russian airline Aeroflot to finance the purchase of Chelsea.
In 2000 he went back to college and gained a Russian law degree in under a year.
That same year he was elected as governor of the remote region of Chukotka in Russia's Far East.
He gained popularity after heavily investing in social services but eventually stepped down in 2008.
He has been married twice and has seven children, including a son with his current girlfriend Daria Zhukova, who runs an art gallery in Moscow called The Garage.
In 2008 he spent £60m on two paintings by Lucian Freud and Francis Bacon.
That same year he also hired singer Amy Winehouse to sing at an exclusive gig at his girlfriend's gallery.
In 2010 Mr Abramovich won a $400m (£252m) tender to redevelop St Petersburg's historical New Holland Island as an arts and culture centre.