Spain creates 'bad bank' for toxic property assets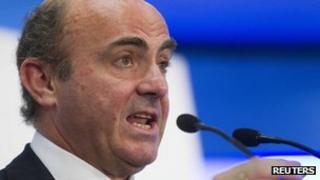 The Spanish government is creating a "bad bank" into which all the toxic property assets of its debt-laden banking sector can be off-loaded.
The move is aimed at helping the country's troubled banks draw a line under the debt crisis and move on.
The Bank of Spain will assess the value of the assets being transferred into the "banco malo" and the banks will receive cash, debt or shares in return, said economy minister Luis de Guindos.
The bad bank could last 10 to 15 years.
The "rotten assets" being off-loaded must have a value that allows the bad bank to make a profit in the long-term, said Mr de Guindos after a cabinet meeting.
Bad debts
In June, Spain requested 100bn euros ($122bn; £79bn) of loans from the European Financial Stability Facility bailout fund to help support its banks, which are struggling with bad debts from loans made in the property sector.
The value of bank loans at risk of not being repaid is estimated to be 156bn euros.
But Spain's eurozone partners have said any bail-out loans must be accompanied by economic reforms, including the establishment of the bad bank.
In July, Madrid announced additional spending cuts and tax rises worth 65bn euros.
Mr de Guindos also announced new rules that will allow the government to take over problem banks.
And he said that Bankia, the bank which the government was forced to part-nationalise in June, could receive emergency cash before the European rescue funds begin flowing.
Double-dip
But the government is still struggling with high borrowing costs and a flatlining economy mired in a double-dip recession.
On 29 August, the debt-laden region of Catalonia asked the government for a bailout of 5bn euros.
As a result, ratings agency Standard & Poor's has lowered its long- and short-term ratings on the region from BBB/A-3 to BB/B, citing the risk of increased tensions with central government.
On 30 August, the region of Valencia asked for 4.5bn euros, more than had been expected.
Meanwhile, unemployment in the country is running at nearly 25%, the highest in the European Union.
Speculation remains that, despite the Spanish government's efforts, the country may still require a full sovereign bail-out.