Japan's industrial output falls on weak global demand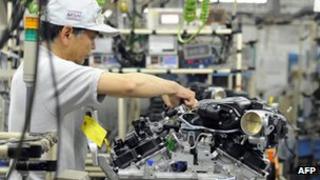 Japan's industrial output unexpectedly dropped in July as a slowdown in global demand hurt exports.
Trade ministry figures showed output was down 1.2% in July, a steep reversal from the 0.4% rise recorded in June and way out of line with analysts expectations of a 1.7% increase.
Earlier this week the Japanese government downgraded its economic assessment for the country.
Analysts said the figures were a cause for concern.
Arjuna Mahendran from HSBC Private bank said the most alarming part was the decline in exports from Japan to Europe as a slowdown in the latter hurt demand.
Those shipments have fallen about 25% from their level of last year, he said.
"That is really of concern because it means this manufacturing slowdown [in Japan], negative growth in the industrial sector, will continue for some time."
Overall Japanese exports fell the most in six months in July, data from the finance ministry showed last week.
As government subsidies for the purchase of fuel-efficient cars come to an end, analysts are predicting further declines and an overall impact on the economy.
"Japan has probably already started falling into an economic lull in the second half of the year," said Yoshimasa Maruyama from Itochu Economic Research institute in Tokyo.
He added that the government may take steps to boost the economy by introducing stimulus measures in the coming months.