Lufthansa cabin crew's day of strike action ends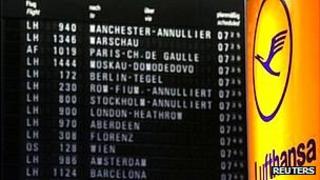 The union representing cabin staff at Germany's biggest airline, Lufthansa, has ended a day of strike action at Frankfurt airport.
Lufthansa cancelled some 200 short and medium-haul flights in and out of Europe's third biggest airport.
A small number of long-haul flights were cancelled as well, among them services to and from New York, Boston, Atlanta, Philadelphia and Seattle.
The union and the airline have been in dispute over pay and work conditions.
The UFO union had said earlier this week that it would stage strikes after talks broke down.
The union is seeking a pay increase of 5% for cabin staff for 15 months starting from January this year, after three years of no increases.
It also wants guarantees that Lufthansa will not outsource jobs and use more temporary workers, as it has done in Berlin.
Lufthansa's latest offer was for a pay increase of about 3.5%.
Airline spokesman Klaus Walther said the union had put its demands "on the back of the customers" and called on it to return to the negotiation table.
UFO head Nicoley Baublies has said that the airline has also not assured that its staff will not be transferred to a cheaper contract if they moved to a low-cost airline within the group.
And he told Bayerischer Rundfunk radio that Friday's action may just be the first of many if Lufthansa does not meet its demands.
Lufthansa has about 19,000 cabin crew and the UFO union represents about two-thirds of them.