Mortgage approvals still subdued, Bank of England says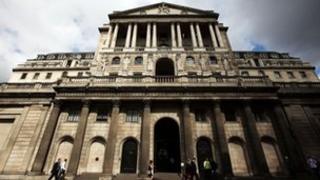 The number of mortgages approved for home buyers, but not yet lent, rose in July, the Bank of England said.
There were 47,312 approvals last month, up from 44,124 in June.
However, this was still less than the monthly average of nearly 51,000 approvals recorded in the previous six months.
The figures suggest that the banking industry's rationing of mortgage funds is still continuing.
Mortgage approvals are a good indicator of near-term trends in lending to home buyers.
Hopes have been raised that the Bank's recently launched Funding for Lending scheme will see more, and cheaper, funds being made available to home buyers.
But it will be some months before any firm evidence emerges that this has in fact happened.
Ashley Brown, of mortgage broker Moneysprite, said: "The month-on-month numbers jump up and down but the overall trend is one of extremely low borrowing levels and a market that's flatlining."
Building societies revive
With banks still reining in their mortgage lending to conserve funds, mutual lenders such as building societies have seen a strong revival in their share of the market.
The Building Societies Association (BSA) said mutual lenders had approved 26% of all mortgage loans in July, and 24% in the first seven months of this year.
Adrian Coles, director-general of the BSA, said: "Mutuals are currently enjoying a sustained increase in lending activity and an increase in deposits from savers."
"Lending activity by mutuals has been growing strongly on a year-on-year basis for some time now, and in July, gross lending rose again, by a healthy 44%.
"At the same time, lending by banks fell by 9% in July," he added.
Kickstart needed
Despite the historically low level of the Bank Rate at 0.5% for the past few years, mortgage lending has been rationed as banks have sought to conserve their funds following the financial crisis, and to rebuild their finances.
The result has been a 50% drop in the number of new mortgages being granted, compared with the years before the onset of the banking crisis in 2007.
The main mechanism for this rationing has been the requirement for most borrowers to put down at least a 20% deposit when being granted a loan.
This has forced many would-be borrowers to stay in rented accommodation as they try to scrape together a deposit which, in many instances, amounts to more than one year's after-tax income.
Jonathan Harris, director of mortgage broker Anderson Harris, said: "It is too early to say what impact the Funding for Lending scheme will have.
"There are fewer deals available at higher loan-to-values than a year ago, so this needs urgently addressing if it is to be a success and to give the housing market the kickstart it so desperately needs."
Credit shrinks
Separately, the Bank of England has revised its presentation of figures on non-secured loans, or consumer credit.
This covers credit card lending, overdrafts, bank loans and hire purchase agreements.
The Bank has stripped out the huge and growing sums of money that have been lent as student loans.
The amount outstanding has doubled in the past five years to £47bn, almost as much as the outstanding stock of borrowing on credit cards, which currently stands at £55bn.
The effect of the Bank's change is to show that consumer credit has been shrinking since the start of 2009.
Previously the figures had shown that it was still growing, despite the recession and banks' reluctance to lend to anyone other than the most credit-worthy borrowers.
Credit card lending makes up only a third of overall consumer credit, but it too is slowing down so much that its annual growth rate is now down to just 0.5% - the slowest annual growth rate since the Bank's current statistics started in 1994.