Citigroup pays out $590m to settle subprime case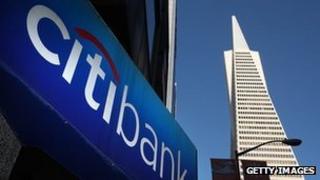 US banking giant Citigroup has paid $590m (£370m) to shareholders who accused the bank of hiding its subprime exposure.
The payout is one of the biggest settlements connected to the global financial crisis which began four years ago.
The bank was accused by shareholders of concealing the scale of its exposure to the toxic mortgages.
Citi denied the allegation but said it wanted to avoid further legal costs.
Shareholders who acted together in a class action contended they were fraudulently misled by misstatements and omissions in the company's disclosures in 2008.
The agreement resolves claims that shareholders ended up with huge losses after the bank failed to make writedowns on complex financial instruments at an early stage and deliberately tried to hide the scale of the risk.
Citigroup ultimately lost $27.7bn in 2008 and its shares trail well below the levels reached before the crash at around a tenth of their previous values.
'Fundamentally different'
Other banks have made similar settlements.
In 2010, Bank of America agreed to a $601.5m settlement, while last year Wells Fargo also paid $590m.
The amount to be paid under the proposed settlement is covered by Citi's existing litigation reserves.
A statement from the bank said the payment was a "significant step" towards resolving outstanding claims stemming from the financial crisis, adding "Citi will be pleased to put this matter behind us".
It said it was now a "fundamentally a different company" from what it was then.
Citi said it had since overhauled risk management, reduced risk and was focussing on banking basics.
The money will be paid from an already existing litigation reserves.
The deal needs final approval from the courts.
Figures from the bank last month showed it was recovering from its exposure to bad loans.
It was able to reduce provision for bad debts from $34.4bn to $27.6bn.