Viewpoint: Would a wealth tax work?
By Mike Walker
Private client tax partner, KPMG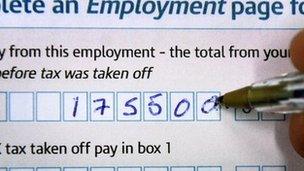 There is obviously an important debate about the fairness of a wealth tax.
But a major problem with wealth taxes is, short term or not, they tend to be mind-blowingly complex.
If one were to be introduced here in the UK, how would it be calculated and what would it include?
Most people simply do not have up-to-date valuations of their assets and it would be a hugely onerous task to obtain these now.
Would they include property?
And if so, does that mean every single one of the millions of properties (residential and commercial) owned by individuals (both in the UK and overseas) would have to be revalued?
Revaluations would be required to establish if someone was even liable for the tax, assuming of course that a minimum level of untaxed wealth would be allowed for each person before the tax bit.
Other practical problems spring to mind:
Would pension benefits and insurance policies (some of which may pay out years into the future) be included, and how would these be valued?
Would agricultural property and shares in private trading companies, which are currently exempt from inheritance tax, be included?
When would a wealth tax bite in terms of so-called in-pats: foreigners living in the UK?
Many of them might simply choose not to come to the UK if they were going to expose their assets to a wealth tax.
And most wealthy people have a genuine choice of where they live.
So the UK could see an exodus of wealthy people, as well as a slowdown in inward-bound wealthy people.
The imposition of a wealth tax could well lead to a drop in yields from other taxes.
Some people might choose to relocate from the UK if they were already here or, if they were thinking of coming, not locate here at all.
Currently, the only time a full personal asset valuation is required for tax purposes in the UK is on death.
Many estates take years to sort out and it is hard to see how any wealth tax would not add huge complexity to what is already a very convoluted system.
It was announced in 2009 that the UK has the longest tax code in the world, having increased from 4,998 pages in 1997 to 11,520 pages in 2009.
Since then we have had several large Finance Acts meaning that the current total is almost 18,000 pages.
The opinions expressed are those of the author and are not held by the BBC unless specifically stated. The material is for general information only and does not constitute investment, tax, legal or other form of advice. You should not rely on this information to make (or refrain from making) any decisions. Links to external sites are for information only and do not constitute endorsement. Always obtain independent professional advice for your own particular situation.
Related Internet Links
The BBC is not responsible for the content of external sites.