US economy expands more than estimated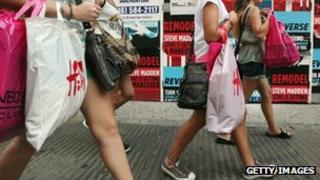 The US economy grew more than first estimated in the second quarter, according to official figures.
The US grew at an annualised pace of 1.7% from April to June, more than the 1.5% previously estimated, the Commerce Department said.
This is a slowdown from 2% in the first three months of the year.
The US Congress's budget office last week warned that spending cuts and tax rises could trigger a sharp economic slowdown in 2013.
In its report, the CBO said it expected the US recovery "to continue at a modest pace" for the rest of 2012 but warned that "substantial changes to tax and spending policies" would cause the US to tip back into recession next year.
The 1.7% annualised pace in the second quarter is equivalent to 0.43% quarter-on-quarter growth. That compares with 0.38% quarterly growth in the previous estimate.
The unemployment rate is currently above 8%.
The economy is shaping up to be one of the biggest issues of this year's US presidential election, which sees President Barack Obama take on Republican rival Mitt Romney.
Federal Reserve chairman Ben Bernanke may offer further thoughts on the state of the economy when he gives a speech at the central bank's annual gathering in Jackson Hole, Wyoming, at the end of this week.
For the past two years, Mr Bernanke has used the event, a conference of the world's central bankers, to indicate the Fed's intentions.
The Fed has kept base interest rates at close to zero for nearly four years and pumped $2.3 trillion into the economy.