Criminalising squatting raises homeless fears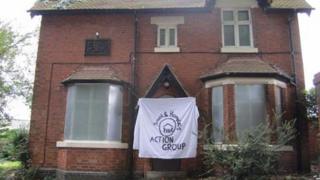 Lauded or loathed - most people have strong views about squatters.
Some, such as John Holland from the Birmingham Tenants Housing Action Group, believe in squatters' rights.
"Having a roof over your head should be a right," he says.
Others see squatters as a scourge on society, intent on stealing an Englishman's castle from under his nose.
This is the position adopted by the government, which is preparing to outlaw squatting from 1 September.
"For too long squatters have had the justice system on the run and have caused homeowners untold misery in eviction, repair and clean-up costs," according to Justice Minister Crispin Blunt.
"Not any more. Hard-working homeowners need and deserve a justice system where their rights come first."
More or less misery?
Making squatting in residential properties a criminal offence should reduce the difficulties some home owners face, Mr Blunt believes.
"This new offence will ensure the police and other agencies can take quick and decisive action to deal with the misery of squatting," he says.
But others fear homeless people, who critics say are in effect criminalised by the measure, could well end up with plenty of misery instead.
"Thousands of properties are lying empty," says Mr Holland.
"Homelessness is on the rise and these homes could be used to house a family."
Cost to tax payers?
But squatters' rights are not only a matter for the haves and the have-nots.
Ordinary tax payers could also be affected by the change to the law, which up to now has left the police without any powers to arrest squatters in residential properties unless they can prove homes have been broken into or other criminal offences have been committed.
The cost of evicting everyone who currently lives in a squat could reach £790m if they instead started claiming housing benefits, according to a report commissioned by Squatters Action for Secure Housing (Squash).
The nature of squatting and the people involved mean there are no official figures for their numbers in the UK.
Yet it seems clear that "there have been a very, very small number of cases where people's homes were squatted, as this would always result in a swift eviction," according to Giles Peaker, who chairs the Housing Law Practitioners Association.
"There was no point for squatters in doing so.
"The point of the change [in the law] is not wholly clear. The new law makes no practical difference for homeowners.
"However, it does give the appearance of action and, to anyone not aware of the previous legal position, looks like a step in protecting homeowners' rights and property."
Until now, property owners have been able to resort to the civil courts to evict squatters.
If an interim possession order (IPO) is issued by the local court, it is then a criminal offence for the squatters to remain.
But this system is costing the UK's legal aid budget £350m a year, which should be saved once the new law comes into effect, according to the Ministry of Justice.
Hidden from view
With so many people eligible for legal aid living in squats, the ministry's argument could be taken as support for one that is often voiced by pro-squatting organisations - namely that squatting is about necessity rather than lifestyle choice.
This was the conclusion of a recent report by the Centre for Regional Economic and Social Research, which found 40% of homeless people had squatted at some time.
And with the number of homeless people in England alone having reached 50,000 - up 14% since 2010-11 and 26% since 2009-10 - it might well be the case that squats and other temporary accommodation help disguise the true extent of the problem, according to Leslie Morphy, chief executive of homeless charity Crisis.
"These figures are just the tip of the iceberg," she says.
"Many thousands more people will not be recorded, instead being hidden away from help on the street, sofa surfing and in overcrowded and unsuitable accommodation."
"And with the worst of the cuts still to bite, we can only predict homelessness will continue to rise."
In spite of this, squatters are often portrayed as lazy rather than needy.
"We are concerned that such repeated inaccurate reporting of this issue has created fear for homeowners, confusion for the police and ill informed debate among both the public and politicians on reforming the law," said a letter in the Guardian newspaper last year, signed by 160 legal professionals, including Mr Peaker.
'Trying to help'
Meanwhile, there are some 950,000 empty homes across the UK, 350,000 of which have been vacant for six months or more, according to Empty Homes, a charity working to restore them to residential use.
"It shows where a lot of people's priorities lie when houses are left like this," says Mr Holland.
The Birmingham Tenants Housing Action Group is currently restoring an Empty Homes property in the city, but Mr Holland realises that from 1 September that might be against the law.
"What we're doing is trying to help," he says.
"We'll have to see what happens when the law does actually change."