John Lewis to sell Nook e-reader in UK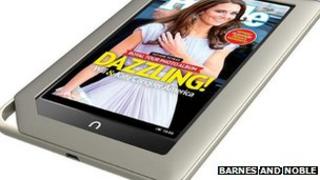 UK retailer John Lewis is to sell the Nook e-reader in all of its 37 stores.
The Nook, made by US bookseller Barnes & Noble, is a rival to Amazon's Kindle and is popular with magazine readers in the US.
The Nook has not been for sale in the UK so far and John Lewis was the first company outside the US to sell the device, Barnes & Noble said.
It has since been joined by retailers Blackwell's, Argos and Foyles, who all intend to stock the device.
John Lewis said that UK customers will have access to 2.5 million titles in its online store from October.
Barnes & Noble had previously announced it would start selling its e-reader in the UK from autumn. The Nook will also be available from a dedicated UK Nook website.
"We look forward to bringing more choice and convenience to discerning UK customers with our critically acclaimed line of reading devices and expansive selection of content," said Jamie Iannone, president of digital products at Barnes & Noble.
Barnes & Noble has yet to confirm its UK prices, but the cheapest version currently retails for $99 (£63) on the Nook website in the US.
Earlier this year, the US bookseller launched the Nook Simple Touch with Glowlight, an upgraded device which features LED lights enabling the device to be read in the dark.