China industrial firms see profits dip as economy slows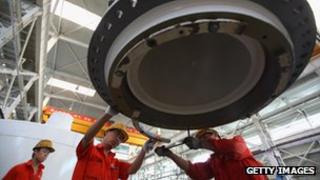 Profits at China's industrial firms have dipped for the fourth successive month, adding to fears about a sharp slowdown in China's economy.
Earnings fell by 5.4% in July from a year earlier. That compares with a 1.7% annual drop in June.
Chinese firms have been hurt by a slowdown in global demand as well as lacklustre domestic consumption.
The industrial sector is a key driver of China's growth and the weak data may result in further stimulus measures.
"We expect a renewed, strengthened push to turn around operating environment both externally and domestically," said Dariusz Kowalczyk a senior economist with Credit Agricole CIB in Hong Kong.
'Significant concerns'
China's economy, the world's second-largest, expanded at an annual rate of 7.6% in the second quarter, the slowest pace of growth in almost three years.
There are fears that growth could slow further in the near term, because economic problems in export markets, in Europe and the US, are impacting on consumer demand for Chinese goods.
According to data released earlier this month, China's exports rose by just 1% in July from a year earlier, down from 11.3% growth in June.
Premier Wen Jiabao has raised concerns about the slowing export growth and said that Beijing needs to take adequate steps to boost overseas sales.
"The third quarter of the year is a critical period for China to realise the year's export growth target and we should take targeted steps to stabilise growth," he was quoted as saying by Xinhua news agency over the weekend.
Analysts said that Premier Wen's remarks indicate that policymakers were worried about growth prospects.
"His language suggests significant concerns over growth outlook, and revealed a sense of urgency," said Dariusz Kowalczyk of Credit Agricole CIB.
Mr Kowalczyk said that measures to support exports may include "accelerated disbursement of export tax rebates and expansion of export credit insurance".
He added that China was also likely to boost infrastructure investment and give "consumption incentives" in an effort to boost domestic demand, in order to sustain growth.