Japan exports fall on weak demand in China and Europe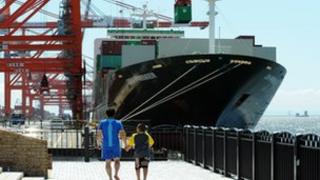 Japan has reported a wider-than-expected trade deficit in July, as slowing demand from China and Europe weighed on exports.
Exports fell 8.1% from the previous year, much more than the 2.9% drop economist were predicting.
High oil prices have also increased the cost of energy imports, which Japan relies on for power generation.
Many Asian export economies have reported weak trade figures in recent months.
Japan saw a 25.1% plunge in overseas shipments to the European Union as the sovereign debt crisis continues to hurt demand. It was the biggest drop since October 2009.
"Europe's debt crisis is the first factor to pull down exports, and the pace of decline is striking," said Masayuki Kichikawa from Bank Of America Merrill Lynch in Tokyo.
"This is comparable to the post-Lehman situation. We hoped domestic demand in China would support Japan's economy, but the story is different."
The drop in exports led to a trade deficit of 517.4bn yen ($6.5bn; £4.1bn), after a revised surplus of 60.3bn yen in June, data from the Finance Ministry showed.