Ideas Exchange opens for talks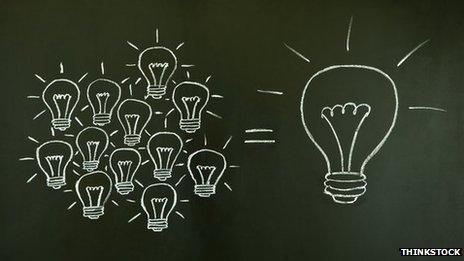 The Ideas Exchange is a series from the BBC exploring the minds shaping global business. It pairs up business leaders from around the world to discuss today's business landscape and their secrets to success.
Travelling to cities such as Beijing, Madrid, London, Addis Ababa, Sao Paulo and New York, the series will highlight expertise in industries from pharmaceuticals to telecoms.
1. Bethlehem Tilahun Alemu and Jorgen Vig Knudstorp
Ethiopian entrepreneur Bethlehem Tilahun Alemu is the founder and managing director of SoleRebels, which makes shoes out of recycled materials. Based in Addis Ababa, the company was created in 2004 to utilise the skills of the local community and create an eco-sensitive product.
Ms Alemu was named African Businesswoman of the Year by African Business Magazine in 2011.
Lego boss Jorgen Vig Knudstorp joined the company in 2001 and was named chief executive in 2004, taking over from Kjeld Kirk Kristiansen, whose grandfather founded the Danish firm in 1932.
Mr Knudstorp has returned the failing family business to profit and transformed the way the company approaches industry.
2. Sir Martin Sorrell and Sunil Mittal
Sir Martin Sorrell privately invested in Wire and Plastic Products (WPP), a UK manufacturer of wire shopping baskets, in 1985.
He joined the company as chief executive a year later and began acquiring advertising-related companies. Today WPP is the world's largest advertising group.
Sunil Mittal founded Bharti Enterprises in 1976. Since then, it has grown from being a manufacturer of bicycle parts to one of India's biggest business groups, known for its telephone brand Airtel, while also prominent in financial services, retail and food.
3. Martin Varsavsky and Carlos Moncayo
Argentine-Spanish entrepreneur Martin Varsavsky has founded seven companies over the past 20 years. These include telecoms provider Viatel and, more recently, Fon, which aims to create a global community of wi-fi users.
Ecuadorian Carlos Moncayo and his two brothers founded Asiam, a Shanghai-based offshore manufacturing management company that specialises in clothing, in 2003.
The company now ships more than $34m worth of clothing per year. Mr Moncayo was voted Asia's Best Young Entrepreneur by Businessweek magazine in 2009.
4. Dare Jennings and Ajay Piramal
Dare Jennings' businesses have always focused on creating a memorable brand and a desirable product. He founded clothing and surf brand Mambo in 1984 and sold it 16 years later for $12m.
His latest project, Deus ex Machina, creates custom motorcycles, as well as clothing, accessories and artwork celebrating the legacy of motorcycles from the 1940s and 1950s.
Ajay Piramal leads the Piramal Group, a diversified conglomerate. Mr Piramal transformed the company from a textiles-centric business to a group embracing pharmaceuticals, packaging, financial services and real estate.
Piramal is now pushing to be the first Indian pharmaceuticals company to develop its own research and branded drugs.
5. Frederico Curado and Ines Kolmsee
Embraer chief executive Frederico Curado spent 23 years at the Brazilian planemaker, working across everything from manufacturing to procurement to IT and sales, before he took the helm in 2007.
The company has had a big base in China since 2000 and Mr Curado believes emerging markets will play a big role in the future global business landscape, with the number of "emerging multinationals" such as Embraer increasing.
Ines Kolmsee is the only female chief executive of a publicly listed company in Germany. She is the head of specialist chemical company Stahl Metallurgie.
Ms Kolmsee has overseen its first listing on the stock exchange in 2006, its continuing growth around the world and its weathering of the economic downturn.
6. Kathleen Taylor and David Neeleman
Kathleen Taylor, chief executive of Canada's Four Seasons luxury hotel group, is credited with taking the company outside its traditional markets and jumpstarting the largest expansion in its history.
David Neeleman made his name in the airline business, founding US low-cost airlines Morris Air and JetBlue.
The Brazilian-born American entrepreneur then founded Brazilian carrier Azul in 2008, seeing good opportunities in South America's fastest-growing economy.
7. Carlos Ghosn and Vineet Nayar
Carlos Ghosn spent 18 years at Europe's largest tyre maker, Michelin, before joining Renault in 1996. He has turned around the fortunes of Japanese carmaker Nissan and has been at the helm of the Renault-Nissan alliance since 2005.
Vineet Nayar has been at HCL Technologies (HCLT), a global IT services company, for more than a quarter of a decade. He became president in 2005 and since then HCLT's workforce has tripled to 85,000 people.
Now chief executive, he believes companies need to listen to their employees if they are ever going to meet the needs of their customers.
8. Yogesh Mehta and Nick Wheeler
Yogesh Mehta set up his first company in his hometown of Mumbai, but when this company failed, a friend suggested he move to Dubai to take advantage of economic growth in the region.
There, he set up Petrochem, a chemical distribution firm, in 1995.
Nick Wheeler founded the shirt company Charles Tyrwhitt as a mail order service in 1986 while still at university.
The company now employs more than 400 people, and has stores in the UK, the US and Paris.