Stansted Airport to be sold by BAA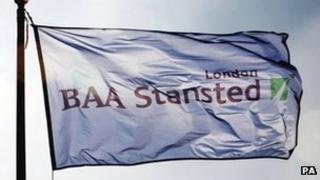 Airports operator BAA has decided to sell Stansted Airport, ending its long-running legal battle.
It has been fighting a 2009 Competition Commission ruling that it must sell Stansted because of the lack of competition between London airports.
BAA was told to sell off Stansted and Gatwick, but by then it had already started the process of finding a buyer for Gatwick.
It was also ordered to sell off either Glasgow or Edinburgh airports.
BAA said it had decided not to challenge the Stansted ruling in the Supreme Court, the last opportunity it had to appeal.
"We still believe that the Competition Commission ruling fails to recognise that Stansted and Heathrow serve different markets," it said.
Ryanair, which has long been critical of the way BAA ran Stansted and the prices it charges airlines to use the airport, welcomed BAA's decision to proceed with the sale.
"The BAA's seven failed court appeals were nothing more than a blatant attempt to delay the sale while BAA and its Spanish owners, Ferrovial, fattened up its monopoly profits at the expense of airlines, passengers and British jobs," said Stephen McNamara from Ryanair.
The Irish airline blames lack of competition for the declining passenger numbers at Stansted, which carried 6 million fewer passengers in 2011 than in 2007.
Market dominance
When the inquiry process was launched five years ago, BAA owned seven UK airports, carrying 60% of all UK air passengers.
It had a virtual monopoly over airports in the South East of England, where Heathrow, Gatwick, Stansted and Southampton carried 90% of air passengers in the area.
Its Scottish airports - Edinburgh, Glasgow and Aberdeen - accounted for 84% of airport passengers in Scotland.
BAA has recently completed the sale of Edinburgh airport.
The Competition Commission said it was "very pleased" the sale of the UK's fourth busiest airport could finally go ahead, and would remain closely involved to ensure a suitable buyer.
"We believe that both passengers and airlines will benefit from the introduction of new ownership and increased competition," said Laura Carstensen, a member of the original inquiry group said.
'Outdated' restrictions
Now that London's three biggest airports are in three different hands, rather than one, Gatwick has called for regulations on their activities to be lifted.
"The Civil Aviation Authority now needs to remove the unnecessary burden of economic regulation imposed when BAA was a monopoly and which threatens to restrict full competition and investment which will benefit passengers and airlines," said Gatwick Airport chief executive Stewart Wingate.
Every five years, the regulator looks at the performance of airports and caps the amount they can charge airlines per passenger.
These restrictions mean airports cannot enter into any contracts longer than five years, and the five-year regulatory cycle can slow the response to customers' needs, Gatwick argues.
Manchester Airports Group, which owns East Midlands and Bournemouth, is hoping to expand the business and is being talked about as a possible buyer for Stansted.
It refused to comment on Stansted specifically, but said in a statement that it was exploring whether "to add a quality airport to the group" and looking at bringing in a new investor to help it do this.
Spanish transport company Ferrovial, which borrowed heavily to buy BAA in 2006, has been selling off stakes in the UK operator, reducing its stake to 40%.
Last week state-backed investment company Qatar Holding bought a 20% stake in BAA. Analysts suggest other sovereign wealth funds and infrastructure funds of big banks could be interested in Stansted.
On buying the BAA stake Qatar Holding said: "The United Kingdom remains an attractive investment destination and there is long-term fundamental strength in the British economy."