Bangladesh shipbuilding goes for export growth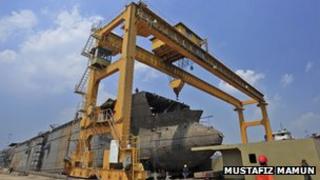 When it comes to shipping, Bangladesh is known mostly as a shipbreaking nation, with dozens of ageing container vessels heading towards its southern coast for scrap. However, in recent years it has also emerged as a shipbuilding country.
Shipbuilding yards in Bangladesh are now exporting small and medium-sized ships for the highly competitive European market.
Since 2008, Bangladeshi yards have manufactured and exported ferries, cargo vessels, and ocean-going multi-purpose ships worth more than $500m (£320m). The vessels were built for countries including Denmark, Germany and Finland.
It's a small beginning compared with giants such as China, Japan and South Korea. But industry owners say Bangladesh will continue to grow because it has several advantages over rivals.
"We have plenty of skilled manpower and our labour cost is cheaper than many other countries. On average, ship owners can save at least 15% of the production cost here," said Sakhawat Hossain, managing director of Western Marine Shipyard in Chittagong.
Jobs potential
Although a number of shipyards in Bangladesh now have the capacity to build vessels for international markets, Western Marine and Ananda Shipyard & Slipways, based near Dhaka, have been leading the way in production for overseas buyers.
At the moment, they can produce ships of about 10,000 tonnes and they are working to expand their facilities to build bigger vessels.
Western Marine, which is situated on the banks of the Karnapuli river in Chittagong, is currently building a cargo vessel that will be soon be plying the icy waters of the North Sea and Baltic Sea in Europe.
The industry is aiming to win orders of more than $2bn in the next five years. If that happens, it is expected to create many thousands of jobs.
Bangladesh has more than 100 shipbuilding yards, with most of them serving the domestic market.
Experts say nearly 70% of the country's cargo and 90% of total oil products are transported by small ships, cargo vessels and tugs through its coastal and inland waterways.
Hundreds of thousands of people use ferries and steamers to travel from one part of Bangladesh to another, and most of these vessels are built in the country.
Eurozone impact
But despite the industry's strengths and promise for the future, it is also facing some external headwinds. The current economic crisis in the eurozone has had an impact.
"We have 17 ships in our order book, worth more than 200m euros ($250m). But our European buyers are not getting any finance from the banks, which have become cautious to fund new ventures at this point. So we are affected," Mr Hossain said.
However, industry owners are confident their domestic market will help to overcome the tide.
With the Bangladeshi economy growing at a rate of about 6% a year, new smaller ships and cargo carriers are needed to transport goods and other raw materials from the main Chittagong port to different parts of the country.
Neighbouring India is also negotiating full transit facilities with Dhaka to transport goods to its nearly landlocked north-eastern states through Bangladesh. Goods are currently sent through a circuitous and mountainous route along the Bangladeshi border.
Once the transit agreement is finalised, then it will be cheaper for Indian traders to send goods by ship along Bangladeshi rivers up to the border and then take them by road to the north-eastern states.
The shipbuilding industry here hopes that if the global economy recovers, then it offers tremendous potential. Experts say more than 50% of the world's ships are more than 20 years old and need replacing.
More importantly, they say countries such as Japan, South Korea and China are building very big, specialised and hi-tech ships, and they are not interested in constructing smaller vessels.
"Globally, this small and medium-sized ship market is worth around $200bn. If Bangladesh can get 1% of this market, then it amounts to $2bn," says Dr M Rafiqul Islam, from the Department of Naval Architecture and Marine Engineering at the Bangladesh University of Engineering and Technology.
However, he points out that the country's infrastructure needs to be improved to attract orders for new ships. In addition, he says, investment is needed in research and development to take the industry to the next level to build bigger ocean-going vessels.
Bangladesh has a limited number of export goods and is keen to expand its range. It hopes its young shipbuilding industry will be a key element in achieving that goal.