Sharp shares rise amid hopes for further restructuring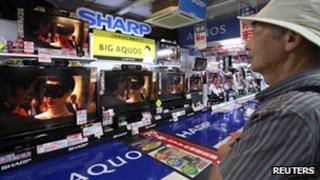 Shares in Japan's Sharp have risen amid speculation Taiwan's Hon Hai may double its stake in the ailing firm.
Hon Hai Precision Industry, which owns Foxconn, is looking to raise its stake to about 20% of Sharp, Japan's Nikkei daily reported.
But the Taiwanese firm is now offering 200 yen ($2.52; £1.60) a share, down from 550 yen agreed in March, it said.
Sharp's stock climbed 13% as hopes of a turnaround grew. It later settled down and was up 5% to 184 yen at the close.
Shares in the electronics giant have fluctuated wildly in recent months as Sharp tries to revive its business.
The century-old company, whose founder invented the first mechanical pencil and designed one of the first radio sets in Japan, has in recent years fallen behind nimbler rivals, such as South Korea's Samsung.
Since the beginning of the year, Sharp has lost about $7bn in market value.
Sell-off
Japanese media this week reported Sharp was potentially planning to sell off assets, including a key solar panel plant in Sakai in western Japan for $1.2bn.
Sharp is also considering selling its LED, copier and air-conditioner businesses, reports said.
Television assembly plants in Poland, Malaysia, Mexico and some office buildings in Tokyo may also be thrown into the sale bonanza.
"It is true that we are considering a number of options, and we will announce these when a decision has been made," Sharp spokeswoman Miyuki Nakayama said.
Sharp recently announced it would cut 5,000 jobs to reduce costs.
It is in talks with Hon Hai for a planned tie-up in liquid crystal display (LCD) production.
Hon Hai earlier this year agreed to buy a tenth of Sharp for $844m, or 550 yen a share. But the two firms are now re-negotiating the deal following Sharp's falling share price.
With a debt pile worth 1.25trn yen, Sharp is under pressure by its creditors to streamline its business in order to convince its investors.
The company, which makes screens for Apple's iPad and iPhone, needs to shore up cash to roll over as much as 360bn yen of short-term commercial paper and will need another 200bn yen to cover a maturing convertible bond in September 2013.