Review promised after Malaysia internet law protest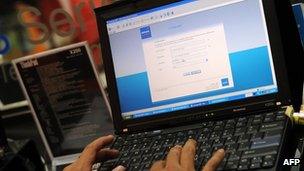 Malaysian Prime Minister Najib Razak says he will review changes to a law critics say restricts free speech online, after protests.
His comments came after activists and bloggers staged an online black-out for one day to protest against changes.
They replaced their home pages with black screens critical of the Evidence Act, which was revised in April.
Critics say the law makes people unfairly liable for content published from networks and personal devices.
''I have asked Cabinet to discuss section 114A of the Evidence Act 1950. Whatever we do, we must put people first,'' the PM said in a post on his Twitter account.
Officials deny the change is meant to silence critics ahead of an election.
The revised law means that Malaysians could get into trouble even if their devices or internet connections have been hacked into, critics say.
The Centre for Independent Journalism in Malaysia said the revision was "a bad law passed in haste and does not take into account public interest and participation", said the Agence-France Presse news agency.
Critics want the law to be changed or scrapped completely.
Premesh Chandran, founder of online news site Malaysiakini, said that the burden of proof on internet users was unfair.
"In other words, if defamatory comments are posted on a blog, the blog owner is likely to be sued or charged with criminal defamation, Malaysiakini said in a statement on its website.
The internet has been key to helping sway a large number of voters from supporting the governing coalition, says the BBC's Jennifer Pak in Kuala Lumpur.
Online media has also exposed corruption scandals among the governing parties, who have been in power for nearly 55 years, our correspondent adds.
Related Internet Links
The BBC is not responsible for the content of external sites.