Greece's economy continues to contract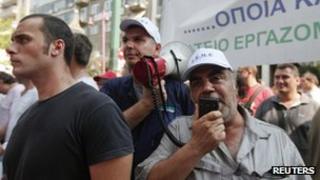 Greece's economy remains in a deep recession, official figures have shown.
The economy contracted by 6.2% in the second quarter of the year compared with the same period a year earlier.
However, this was a slight improvement on the 6.5% annual pace of contraction recorded in the first quarter.
Greece's economy has contracted for the past three years and unemployment is at record highs. The government is trying to make spending cuts to secure bailout funds from international lenders.
Earlier this month, leaders of Greece's coalition government agreed 11.5bn euros ($14.2bn; £9bn) in new spending cuts.
The cuts were required for Greece to qualify for the next 31.5bn euro instalment of the 130bn euro loan from the "troika" of international creditors - the EU, International Monetary Fund and European Central Bank.
The three have said they will not release the next bailout payment if they are not satisfied that Greece has made sufficient progress in implementing spending cuts and economic reform.
If Greece does not get the funds, there are fears that the country may have to leave the euro.
The Bank of Greece has estimated that the country's economy will contract by about 5% this year.
However, other forecasters expect a much worse performance, and last month Greece's Prime Minister, Antonis Samaras, said he expected the economy to shrink by 7%.
The country has received two massive bailouts - one for 130bn euros in March this year and one for 100bn euros in May 2010 - to allow it to continue payments on its vast public debt and stay in the eurozone.
However, the country has suffered from cuts in public spending, benefits, pensions and public sector salaries imposed as a result of the loans.