Is social media another dotcom bubble?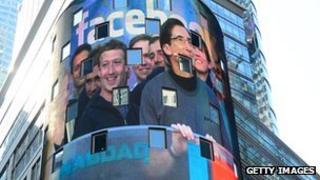 Investors with long memories may be feeling a sense of deja vu.
The recent plunge in the value of Facebook and other once high-flying social media stocks has brought back painful memories of the dotcom bubble of the late 1990s.
In that first wave of internet euphoria, investors threw money at unproven start-ups which quickly went bust or shrank to a tiny fraction of their peak value.
Five trillion dollars (£3.2tn) was wiped off the value of shares traded in major centres between 2000 and 2002, partly through the collapse in technology stocks.
There are parallels with what is happening now to social media shares.
Social media is the term bandied about for a range of internet businesses that have recently joined the stock market.
Facebook is the prime example.
"There was so much excitement and potential around these stocks last year and now there seems to be more scepticism," explains Evelyn Rusli, who writes about technology investment for the New York Times.
"Investors are now looking at these companies and thinking 'OK even though they showed some initial strong growth, that trajectory isn't going to continue'," she says.
The disappointment is reflected in the performance of the shares.
Facebook's shares have fallen more than 40% since trading started in May.
Among the others, Groupon, the daily discount deals group, has seen its shares lose nearly two-thirds of their value. After second quarter revenue figures disappointed Wall Street on Monday evening, shares fell a further 12% in after-hours trading.
Also, the internet radio group Pandora Media's shares are down more than a third and social gaming firm Zynga's shares have slumped 70% since trading began.
Flourishing services
But not all social media shares have bombed.
LinkedIn, the contacts service for business professionals, has seen its shares climb.
Despite stock market woes, the services these firms provide are often flourishing.
Facebook, for example, has nearly a billion subscribers.
The main problem they face is turning popularity with users into profits.
"Social media has a history of monetising poorly," says Colin Gillis, a technology analyst at BGC Financial in New York.
"A fundamental problem is people are less inclined to respond to advertising when they are socialising."
With some firms in the sector, it is hard to see why investors had such high expectations to begin with.
Zynga, for example, provides games that are mostly played for free on Facebook.
The revenues, such as they are, come from selling inexpensive virtual extras to enthusiasts.
Yet Zynga launched on the stock market with a value of $8.9bn, which some saw as absurd.
'Incredibly excited'
Henry Blodget, editor-in-chief of Business Insider, believes the excessive valuations put on some social media companies were partly due to weakness in the economy in recent times, which left investors desperate for opportunities.
"We've had the economy struggling for the last few years, so investors were incredibly excited to see growth and were willing to pay too much for it. That's the simple explanation," he says.
Another factor may have been the memory of what happened when Google became a public company in 2004.
At the time, many investors thought the price was too high and stayed away from the initial share sale, only to see the stock soar in value.
"Everybody who didn't buy into that IPO felt like an idiot," explains Mr Blodget.
But he says the good news is that the current technology bust is unlikely to be as serious as the one in 2000.
"To call the social media situation a bubble in the same way as the dotcom bust is almost an insult to a real bubble," he says.
He played a controversial role promoting internet companies at that time and so is well placed to comment.
The crash that followed the first internet boom in the 1990s involved more companies, more investors and more money than is at stake now.
Another difference is that many of the first wave of internet businesses turned out to have no lasting value at all.
Experts say that is not generally the case with social media stocks.
"Facebook is a real company, nobody is disputing that, the question is how much is it worth," says Mr Blodget.
Speed of change
One of the lessons of the dotcom crash may be that while social media is no longer flavour of the month with investors, the long term commercial prospects of the sector may still be good for those prepared to wait long enough.
Among the most expensive disasters of the dotcom crash were the collapse of a grocery distribution firm Webvan and a pet products supplier Pets.com.
Today there are many successful online firms making decent profits providing very similar services.
For investors in Webvan and Pets.com, the problem was not so much the vision as the timing.
It took close to 10 years, not the one or two years they envisaged, to create the infrastructure and find the customers to make businesses of this type profitable.
"Change only happens at a certain speed," says Colin Gillis of BGC Financial.
He also points out that Facebook, despite its current difficulties extracting revenues from people using mobile devices, reaches an astonishing one-seventh of the world's population.
And that still leaves the other six-sevenths to play for.
While, as he puts it, "multiple efforts to unpick the lock" of making money from social media have so far failed, it is still early days and the ultimate payoff for patient investors could still be huge.