Brazil confident ahead of Rio 2016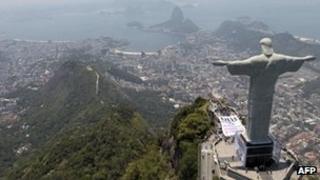 While millions of people around the world simply watched and enjoyed the 2012 Olympics, for Brazilian officials it was a vital opportunity to learn what worked - and what maybe did not.
With the next summer Olympics being held in Rio de Janeiro in 2016, Brazil's organisers were in London over the past two weeks to observe how the Games were run.
Brazil's Vice Minister for Sport Luis Fernandes told the BBC that while he was generally very impressed, he had spotted some mistakes to avoid.
"First of all, the UK has done an absolutely fantastic job in organising a very complex endeavour," he says, speaking at the Brazilian embassy in central London.
"At the same time there were some problems, and it is very important that we learn from them."
Perhaps unsurprisingly, Mr Fernandes said the main problem was the much reported revelation, only weeks before the 2012 Games started, that private security company G4S had not recruited enough staff.
This forced the UK government to commit more members of the armed forces.
"This last-minute change was obviously not ideal, so in Brazil we are now much more aware of the need to get the right balance of armed forces, private security people and stewards in 2016," he says.
Mr Fernandes's other complaint was that some of the volunteer drivers hired to transport officials could have done with more training.
"With the volunteers you need to balance enthusiasm with knowledge," he says. "Sometimes the volunteer drivers did not appear to know the best way to go, or how to get to places on time.
"But these are really minor things, our overall impression was very positive. Any complex endeavour is bound to have a couple of mistakes, and you have to learn from them."
While having to organise a Olympics would be more than enough for most governments to cope with, Brazil is also hosting the World Cup in 2014, with Rio set to host the final and a number of group matches.
'Golden opportunity'
For such a sports and - specifically - football-mad country, Mr Fernandes insists that the core focus of the two tournaments is the infrastructure legacy.
"We are a developing country which needs a massive investment in infrastructure," he said.
"The World Cup and Olympics give us a golden opportunity to invest and accelerate such projects."
For anyone lucky enough to visit Rio, the current lack of public transport infrastructure is certainly a key weakness.
With a population of 6.2 million people sprawled across a wide area, the city's two underground railway lines are completely insufficient.
As a result, the road network is often gridlocked.
But thanks to the need to improve matters ahead of the two sporting events, Rio is building a new underground line and four dedicated bus lanes.
The new bus lanes will cover a total 150km (93 miles) across the city and be inaccessible to cars. Set to open in time for the World Cup, they will cut journey times by more than three-quarters, and better link Rio's main airport to the city.
The new underground line is scheduled to be built in time for 2016 and will link the main Olympic Park in Barra da Tijuca in the western side of Rio to the rest of the network.
Mr Fernandes says: "We are not like London which just needed to make very small additions to its transport network for the Olympic Games. In Rio we needed to see a massive improvement, and the World Cup and Olympics are giving us the vital focus."
So, would the investment in infrastructure have been a lot less, and slower to develop, without the two sporting event? "Yes for sure," admits Mr Fernandes.
Completely confident
With Brazil planning to spend a total $14bn (£8.9bn) of public funds on the World Cup (which includes everything from the stadiums, to road, rail and airport infrastructure), and a further $11.5bn on the Olympics, Mr Fernandes says everything will be built on time.
For the Rio Olympics, the main athletics stadium, Estadio Olimpico Joao Havelange, is already ready, having been completed in 2007, and mainly used by football club Botafogo.
Across the city, the giant Maracana football stadium is being substantially rebuilt ahead of the 2014 World Cup. It also has to be ready for football's 2013 Confederations Cup.
Work on other Olympic facilities is due to start next year.
"We are completely confident that we will be ready on time for both events," said Mr Fernandes.
"Fifa [Football's world governing body] did air concerns in past, but since then we have worked much more closely with them, and they are happy, everything is on track."
Public opinion
But while Mr Fernandes is confident ahead of both 2014 and 2016, what do people in Brazil think?
Luciani Gomes, a freelance journalist based in Rio, said that after watching London 2012, the average Brazilian was now much more interested in the Olympics.
"The idea we got here is that the London Olympics ran smoothly, with no major problems," she says.
"And that is making us wonder how it will be here, in 2016. If we're going to be able to make such a beautiful opening ceremony, if chaos won't reign in Rio during the Games, if transportation will be good or at least work."
Despite such concerns, Ms Gomes said: "Most of the people in Rio agree that if the city wasn't hosting the Olympics, it wouldn't be receiving as much investment as it is."
Mr Fernandes insists Rio is more than qualified to host a successful Olympics and be a central part of the World Cup.
"Every year in Rio two million people attend both the carnival and New Year celebrations, and they always run smoothly - the city is used to hosting massive events," he says.