News Corp registers $1.6bn fourth-quarter loss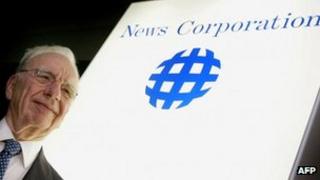 Rupert Murdoch's News Corp has swung to a loss partly due to the weakness of its publishing business, which includes newspapers like the Times and the Sun.
The fourth quarter net loss was $1.6bn (£1bn) compared with a net income of $683m in the same period last year.
The loss included a $2.9bn pre-tax restructuring charge.
The company plans to split into two, separating its profitable film and TV business from UK newspapers, embroiled in a phone-hacking scandal.
"News Corporation is in a strong operational, strategic and financial position, which should only be enhanced by the proposed separation of the media and entertainment and publishing businesses," Mr Murdoch said.
Its publishing division reported quarterly operating income of $139m, down from $270m reported in the same period a year ago, reflecting lower advertising revenues and the lack of sales from closed tabloid News of the World.
The $2.9bn charge is for "impairment and restructuring" - possibly ahead of the corporate split.
For the last financial year as a whole, the results include a $224m charge related to the legal costs over the phone-hacking scandal.
Last year it emerged that journalists at News International publication the News of the World had been illicitly accessing the voicemails of prominent people to find stories.
Claims that NoW journalists had hacked the voicemail of murdered schoolgirl Milly Dowler led to the closure of the Sunday tabloid, and an inquiry into press standards by Lord Justice Leveson that is still ongoing.
'Unlocking value'
In the quarter, its film business had an operating income of $120m, compared with $210m reported in the same period a year ago when animated film Rio was a success in theatres.
The forthcoming corporate split will see News Corp's film and television businesses - including 20th Century Fox and the Fox broadcasting network - grouped in one company.
The other company will hold all News Corp's publishing interests, such as the Wall Street Journal, the Times, the Sun, the Australian, the New York Post and publisher HarperCollins.
Mr Murdoch has said the split would "unlock even greater long-term shareholder value".
The plan is still be subject to shareholder approval.
However, Mr Murdoch's family trust holds just under 40% of News Corp shares and is expected to have little difficulty winning support from the additional 10% of shareholders necessary to push through the split.
This week, the Church of England sold its shares in News Corp on fears that the media group has not learnt lessons from the phone-hacking scandal.
The Church said it had sold its entire holding, worth £1.9m, on the advice of its ethical investment advisory group.
Shareholders with assets worth more than $1.6tn (£1tn) are backing the appointment of an independent chairperson at News Corp.