News Corp shares sold by Church of England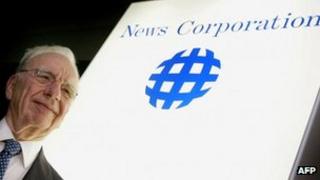 The Church of England has sold its shares in News Corp on fears that the media group has not learnt lessons from the phone-hacking scandal.
The Church first raised concerns with News Corp's board last year.
But it said that after a year of dialogue it was not satisfied that News Corp was committed to implementing the necessary corporate governance reform.
The Church said it had sold its entire holding, worth £1.9m, on the advice of its ethical investment advisory group.
The shares, held by the Church of England's investment bodies, the Church Commissioners and the Church of England Pensions Board, represent 0.005% of News Corp's publicly traded stock.
'Not taken lightly'
"Last year's phone-hacking allegations raised some serious concerns amongst the Church's investing bodies about our holding in News Corporation," said Andrew Brown, secretary of the Church Commissioners.
"Our decision to disinvest was not one taken lightly and follows a year of continuous dialogue with the company, during which the Church's ethical investment advisory group (EIAG) put forward a number of recommendations around how corporate governance structures at News Corporation could be improved.
"However, the EIAG does not feel that the company has brought about sufficient change and we have accepted its advice to disinvest."
Christian Brothers Investment Services (CBIS), which has co-sponsored a resolution for this year's News Corp annual meeting calling for an independent chair, said it understood the Church's decision.
"We have sincerely appreciated Church of England's support for our resolution and share their frustration with the complete lack of substantive change at the company," said Julie Tanner, assistant director of socially-responsible investing at CBIS.
"Even as new scandals have come to the fore, News Corp has been unwilling to make the structural changes that would give investors like Church of England confidence that News Corp is effectively dealing with its problems."
Shareholders with assets worth more than $1.6tn (£1tn) are backing the appointment of an independent chairperson at News Corp.