Esprit poaches Zara director as its new chief executive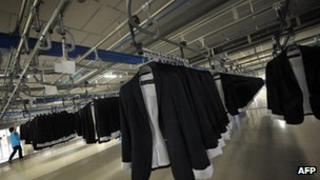 Shares in fashion retailer Esprit Holdings have surged nearly 40% after it named an industry veteran from rival Zara as its new chief executive.
The company has appointed Jose Manuel Martinez Gutierrez, who was group director of distribution and operations at Inditex, which owns the Zara brand.
He will replace Ronald van der Vis, who resigned abruptly in June along with chairman Hans-Joachim Korber.
The news boosted Esprit's share price by 38% before it settled down to 28%.
"The new appointment gives investors new hope. With a new chief, in particular from another strong brand name, investors are putting a bet on a turnaround story," said Alfred Chan, chief dealer at Cheer Pearl Investment.
The Hong Kong-listed company has struggled against cheap-chic fashion rivals H&M, Zara and Uniqlo, which specialise in affordable clothing for a younger, hipper clientele.
Last September, it said it would invest more than HK$18bn ($2.3bn; £1.5bn) in product design and stores over the next four years to revive the brand, which had "lost its soul". Its annual profit plunged 98% last year.
Mr Martinez's appointment, which will take effect in September, has fuelled investor optimism over the group's outlook.
'Transformation plan'
Inditex, which is now the world's largest fashion retailer, has transformed the fashion retailing landscape by getting designs from the catwalk to the High Street faster than its rivals.
Since joining Inditex in 2003, Mr Martinez, 42, has helped overhaul the Spanish company's supply chain management.
"Mr Martinez has a track record of outstanding leadership that will be critical to executing Esprit's transformation plan," said non-executive chairman Raymond Or, who replaced Mr Korber.
"He is passionate about continuing the work to revitalise Esprit's brand and brings with him a unique perspective built from within the fashion retailing business."
Mr Martinez will reportedly be paid 1.5m euros ($1.9m) a year, with an annual discretionary bonus of up to 1.5m euros, which will be guaranteed for the first two years.
Mr Van der Vis and Mr Korber cited personal reasons for their departure.