Industrial output data falls by less than expected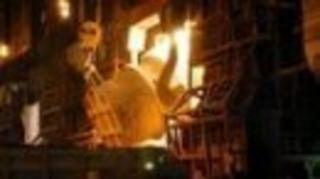 A smaller than expected fall in industrial output has sparked hopes that the sharp drop in UK growth from April to June could be revised upwards.
Industrial output fell 2.5% in June, better than the 3.5% expected by economists.
This is despite the extra public holidays in June to celebrate the Queen's Jubilee anniversary.
Economists say that the official second-quarter GDP estimate could now be revised.
The Office for National Statistics, which produces the figures, did not have access to the industrial output, which includes energy production and mining, when it made its initial second-quarter GDP estimate.
The 0.7% contraction of the economy between April and June was much sharper than had been expected.
"June's industrial figures suggest that the drop in GDP in the second quarter is likely to be revised to a slightly smaller fall," said Samuel Tombs, an analyst at Capital Economics research group.
"But the figures did not change the overall picture of a sector struggling to grow in response to rapidly weakening overseas demand," Mr Tombs added.