AIG: Latest sale of shares raises $750m for US Treasury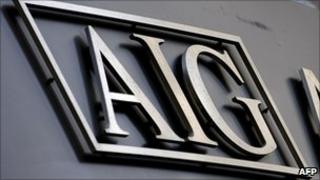 The US government says it expects to receive $750m (£480m) from the latest sale of shares held in American International Group (AIG).
The sales are part of an effort to recoup taxpayers' money which was used to fund AIG's bailout, the largest of the 2008 financial crisis.
This brings the total from the fourth round of sales in AIG shares to $5.75bn.
Last week, the US Treasury announced it had sold $5bn worth of AIG shares.
In September 2008, the US Treasury and the Federal Reserve stepped in with $182bn to rescue New York-based AIG from collapse.
AIG, once the world's largest insurance company, has sold off huge assets as it restructured itself in a bid to return to profitability.
Last week, AIG reported that its second-quarter profit surged 27% from the same period last year to $2.3bn, almost double the expectations.
So far, the US Treasury has received $23.3bn from four sales of AIG shares.