Back-to-work scheme ruled lawful by High Court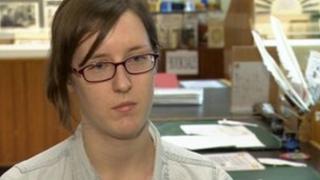 A graduate has lost her legal challenge to a government scheme which she says forces people to work without pay.
Cait Reilly, a University of Birmingham geology graduate, had argued that making her work unpaid at a Poundland store for two weeks or risk losing her benefits was a breach of human rights.
The scheme was ruled lawful by the High Court, but letters setting out possible sanctions should be clearer, it said.
The government said its letters were clear and would contest that finding.
Miss Reilly's fellow claimant, unemployed heavy goods vehicle driver Jamie Wilson, was told that his Jobseeker's Allowance would be stopped after he refused to take part in the Community Action Programme, which his lawyers said would have involved him working unpaid for 30 hours per week for six months.
Lawyers representing the pair were trying to get their back-to-work schemes declared unlawful under article four of the European Convention on Human Rights, which prohibits both forced labour and slavery.
The judge, Mr Justice Foskett, however, said this was "a long way from contemporary thinking".
The Department for Work and Pensions (DWP) said the comparison with slave labour was "ridiculous".
"Thousands of young people across the country are taking part in our schemes and gaining the vital skills and experience needed to help them enter the world of work - it is making a real difference to people's lives.
"Those who oppose this process are actually opposed to hard work and they are harming the life chances of unemployed young people who are trying to get on," a DWP spokesperson said.
Mistakes made
In addition, Mr Justice Foskett said mistakes had been made in both their cases. But neither scheme breached the convention and the errors did not invalidate the Jobseeker's Allowance regulations.
Miss Reilly had been misinformed about the Work Academy Scheme, so she did not realise that it was not mandatory.
For his part, Mr Wilson, who was on the Community Action Programme, had not been given proper notice of the scheme, the judge said.
His legal representatives, Public Interest Lawyers, claimed this could have "far-reaching consequences" for the thousands of people who had had their benefits stopped or suspended for failing to take part in back-to-work schemes.
"Today's decision should mean that many of those subjected to benefit sanctions will be entitled to reimbursement by the Department for Work and Pensions," said Tessa Gregory of Public Interest Lawyers.
The government said it did not expect to make any payments to those who had lost benefits.
Mr Wilson was sent a letter explaining that "he could lose up to 26 weeks of benefit" if he did not comply.
This failed to make clear that the sanctions were graduated, the judge said, starting with a loss of two weeks' benefits for a first misdemeanour.
The DWP said it had revised the wording of its standard letters, but maintained that they had previously been clear and concise.