Virgin Atlantic makes annual loss after high fuel costs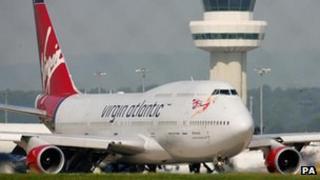 Virgin Atlantic has reported an annual loss because of higher fuel prices.
The carrier made a loss of £80m in the 12 months to the end of February, compared with a profit of £18.5m a year earlier.
Founded by Sir Richard Branson and 49% owned by Singapore Airlines, Virgin said its fuel costs rose by one third.
Revenues at the airline increased 3% to £2.74bn, while its passenger numbers went up by 2% to 5.4 million.
Its load factor - the measure of how full its flights were - totalled 78%.
Virgin's chief executive Steve Ridgway said: "In an incredibly challenging market, we have managed to grow top line revenues and fly more customers than last year.
"However, with the prevailing uncertainty in the economy, sky high fuel prices and a 25% hike in our air passenger duty fees, converting this sales growth into profit has not been possible."
Virgin's annual results came on the same day as rival International Airlines Group (IAG), the owner of British Airways and Iberia, reported a half-year loss of 390m euros ($476m; £306m).
IAG also said that the higher cost of fuel was a big factor in its loss.