Tesco Bank will offer mortgages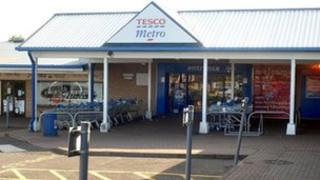 The supermarket group Tesco is to start offering mortgages via its Tesco Bank.
Holders of the supermarket's loyalty card, the Tesco Clubcard, will be able to earn points as they pay off their mortgage each month.
All the deals on offer require at least a 20% deposit and the mainly fixed-rate deals have interest rates ranging from 3.19% to 5.09%.
Recently several big lenders have started offering long-term fixed-rate mortgages at less than 3% interest.
Ray Boulger of mortgage brokers John Charcol said: "Any hopes that the entry of Tesco would produce a significant increase in competition have been dashed, at least initially, by its opening rates, which seem to be designed more to avoid getting too much business than to ruffle the feathers of existing lenders.
"Its opening rates would have been competitive a month ago but not now, unless Tesco has re-defined the word competitive," he added of the bank, which has its headquarters in Edinburgh.
Andrew Montlake, of mortgage brokers Coreco said: "The products themselves are priced sensibly, with the opportunity to repay 20% of the loan amount off each year without penalty a nice extra."
"Whether a supermarket brand, even one as strong as Tesco's, can become a serious player in the mortgage market remains to be seen.
"The prospect of mixing groceries, Clubcard points and the largest loan you are ever likely to take out will not appeal to all," he added.