Sharp shares fall 30% after it warns losses will grow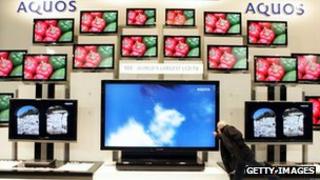 Shares in Japanese television maker Sharp have dropped 30% after it warned that losses this year would be eight times bigger than first thought.
The firm said it now expects a full-year loss of 250bn yen ($3.2bn; £2.05bn), up from its earlier estimate of 30bn yen.
Sharp and other Japanese firms have been hit by a strong yen and tougher foreign competition.
On Thursday, Sharp said it would cut 5,000 jobs to reduce costs.
Sharp announced its loss adjustment as part of its quarterly earnings report.
During the three months from April to June, the firm reported a net loss of 138.4bn yen, compared with 49.3bn yen the previous year.
Sharp has seen demand slow for liquid crystal display televisions, its main product.
"The domestic and Chinese demand for liquid crystal display televisions fell at a faster pace than expected," the company said on Thursday.
Competition
Analysts said Sharp should be looking to increase profit margins by making more expensive products such as LED and 3D televisions.
"The focus for Sharp has to be in terms of leveraging its ability to sell into the higher-end market as far as televisions are concerned," said Satish Lele from Frost and Sullivan.
He added that Japanese TV-makers faced stiff competition from Taiwanese and Korean players, especially in emerging markets.
Sony shares also fell 8.5% on Friday after it too reported widening quarterly losses and cut its full-year profit.
However, Mr Lele pointed out that unlike Sony and rival Samsung, Sharp is much more exposed to the declining TV business as it has not diversified the products it offers.