BHP Billiton in $3.3bn writedown as gas prices plunge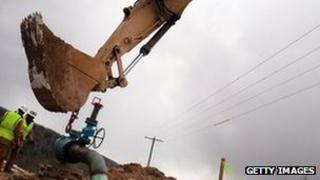 Australian miner BHP Billiton has announced writedowns in shale gas and nickel assets totalling $3.3bn (£2bn).
Chief executive Marius Kloppers and head of petroleum Mike Yeager will forgo their bonuses for 2012, the company said in a statement.
It wrote down $2.84bn on the value of the US Fayetteville shale gas assets it bought in 2011, and $450m on the value of Australian nickel assets.
BHP blamed a decline in the price of natural gas in the US.
'Clearly disappointing'
The company bought its Fayetteville and Petrohawk shale gas businesses for $17bn last year.
Shale gas prices have plunged by about half since then.
Shale gas is extracted by tapping gas from shale rock using a process called hydraulic fracturing, or fracking.
Mr Kloppers said the writedown on the Fayetteville assets was also a reflection of BHP's decision to change course and shift drilling from dry gas to liquid-rich fields.
"While we have responded appropriately to the changed market conditions today's impairment is clearly disappointing," he said.
Bonuses given up
BHP chairman Jac Nasser said the board still thought the investment in the US shale gas assets was the right decision for shareholders and would generate "good returns".
"However, it is very disappointing that low US gas prices have impacted the carrying value of the Fayetteville assets," he said.
"As a result of the writedown both Marius Kloppers and Mike Yeager have advised the remuneration committee that they do not wish to be considered for a bonus for the 2012 financial year."
Earlier this year, Anglo-Australian mining giant Rio Tinto said its chief executive Tom Albanese would forgo his annual bonus.
It came as Rio reported a 59% drop in annual profit, hit by an $8.9bn writedown in the value of its aluminium operations.