LinkedIn quarterly profits beat analyst forecasts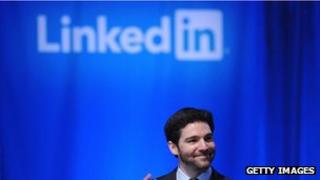 Business-focused social networking website LinkedIn has said its quarterly profits declined but still beat analyst expectations.
Net profit in the three months to June fell 38% to $2.8m (£1.8m) from the same period last year.
But revenue soared 89% to $228m, fuelled by an increase in premium subscriptions.
The results come as the shares of its larger rival Facebook fell another 4% to $20.04.
Facebook - the third-biggest share flotation in history - opened with a price of $38 per share in May and has seen its stock fall ever since.
LinkedIn was one of the first prominent social networking sites to issue shares to the public, ahead of the much-anticipated Facebook share issue.
LinkedIn's shares are 48% higher than at the start of the year and it has a market capitalisation of $9.7bn.
The business has more than 175 million members worldwide.
Meanwhile, Facebook has said it believes there are now more than 83 million illegitimate accounts on the social network - more than 8% of its 955 million active accounts.