Olympics set to boost Adidas profits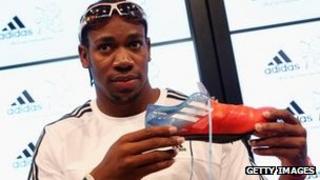 Europe's biggest sportswear maker, Adidas, has said its full-year profits should be at the top end of forecasts thanks to key events such as the Olympics and Euro 2012.
It now expects full-year net profits to rise by 15-17%, against an earlier estimate of 12-17%.
Adidas said major sporting events would provide a "positive stimulus" to sales.
It also said second quarter profits rose to 165m euros ($202m; £130m), up from 140m euros a year earlier.
Sales were up 7% to 3.517bn euros. However, sales at its Reebok brand were down 26%, partly as a result of problems at Reebok India.
Earlier this year, Adidas said it had discovered "commercial irregularities" at Reebok India that could cost the firm up to 125m euros.