US Federal Reserve signals future stimulus action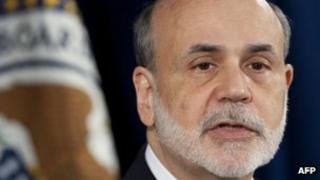 The US central bank has signalled that it may take more action to stimulate the world's largest economy.
Many had hoped the Federal Reserve would announce new measures on Wednesday.
The Fed "will provide additional accommodation as needed to promote a stronger economic recovery", it said in a statement.
It added that interest rates would remain at "exceptionally low levels" until at least late 2014.
Hope for new measures from the Fed comes as fears grow for an expensive bailout for Spain - the latest event as the eurozone debt crisis continues to weigh on the global economy.
There is speculation that the European Central Bank (ECB) will announce new moves on Thursday to shore up support for some eurozone nations suffering from high borrowing costs.
'Decelerated'
In June, the Fed cut its forecast for economic growth in 2012 to 2.4% from 2.9%.
"Information received since the Federal Open Market Committee met in June suggests that economic activity decelerated somewhat over the first half of this year," the Fed said in its statement.
Data last week showed the US economy slowed in the second quarter to an annualised pace of 1.5%.
But growth in the first three months of the year was revised up to 2% from a previous estimate of 1.9%, the Commerce Department said.
On Wednesday, the Fed also maintained its programme of swapping short-term bonds for long-term ones, known as Operation Twist, until the end of the year.
The idea of the programme is to cut the long-term cost of borrowing for businesses and households.