Online hotel deals broke law, says OFT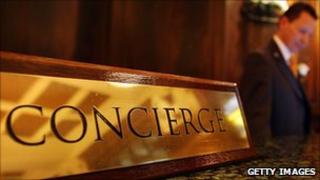 Two online travel agents and a hotel group could be limiting price competition on hotel room sales, early results of an investigation have found.
Booking.com and Expedia entered into separate agreements with Intercontinental Hotels Group (IHG), the Office of Fair Trading said.
The regulator's provisional findings are that these agreements infringed competition law.
Expedia and IHG argued that the arrangements complied with the law.
Expedia claimed that the OFT had yet to show that any laws had been broken.
"Expedia remains committed to ensuring that it provides consumers with the widest possible choice of travel options at competitive prices and will seek to safeguard its ability to continue to do so in relation to the current regulatory process," it said in a statement.
IHG said its arrangements with online booking agents were "compliant with competition laws and consistent with the long-standing approach of the global hotel industry".
Booking.com's parent company, Priceline, said it would contest the allegations "vigorously", claiming that it did not control hotel pricing.
The three firms can now respond to the allegations within three months.
Big business
Hotels sell some rooms directly to customers, but use online agents to keep their occupancy levels high.
The UK's online travel agency sector is the largest in Europe. The OFT said that UK hotel bookings through online travel agents totalled approximately £849m in 2010.
The sale of hotel rooms over the internet has become a huge business, dominated by the hotels themselves and by global websites which sell the rooms on commission.
An OFT investigation began in September 2010, after a discount website called Skoosh.com complained that it was being put under pressure to maintain a standard price rather than share its commission with customers. It covers bookings by UK residents for rooms around the world.
The provisional findings of the OFT's investigation is that the agreements between Booking.com and Expedia with IHG could limit price competition and create barriers for other firms to expand.
The arrangement between Booking.com and IHG was still in place, while Expedia allegedly violated rules between October 2007 and September 2010, the OFT added.
'Widespread'
"We want people to benefit fully from being able to shop around online and get a better deal from discounters that are prepared to share their commission with customers," said Clive Maxwell, OFT chief executive.
"The OFT's provisional view is that Booking.com, Expedia and InterContinental Hotels Group have infringed competition law. However, these are the OFT's provisional findings only. All parties will now have a full opportunity to respond."
Within the travel business the practice of keeping prices at a pre-set level is talked about openly and is called "rate parity".
The effect is that a customer might look at several websites and see the same prices advertised.
And where there is very little variation in prices, a website can claim, truthfully, that its prices are the "cheapest".
The OFT said it limited its investigation to a small number of major companies. However, the investigation was likely to have wider implications as the alleged practices were potentially widespread in the industry, it added.
If the regulator concludes that there have been breaches of the Competition Act, it can impose penalties of up to 10% of a company's turnover.