Olympics 'hits London retailers as shoppers stay away'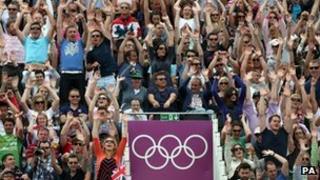 Shops in central London saw a sharp drop in visitors at the start of the Olympic Games, figures have suggested.
The number of people going to stores on Friday ahead of the opening ceremony was 10.4% lower than a year ago, said research group Experian.
It added that customer footfall levels were 11.7% down on Saturday.
Retail analysts said the figures were not surprising due to fears of overcrowding, but that the situation would soon return to normal.
Neil Saunders, managing director of Conlumino, said: "The figures are not surprising at all. There has been a lot of nervousness about whether London's transport system could cope with the number of Olympic visitors, and concerns about overcrowding in the capital in general.
"This has deterred a lot of people from going shopping, and is a bit of a warning that the Olympics may not be the saviour for retailers.
"However, we'll most likely see a quick return to shopping levels in central London as soon as the games are over, or even before, as people realise that the capital is far from struggling to cope."
The Experian data, which measures the number of people visiting shops, not how much money they spend, also showed that customer footfall in central London recovered slightly on Sunday, up 1.6% from a year earlier.
Although the Olympic Stadium is located in east London, on Saturday the men's cycling road race started and finished on The Mall in central London, with the women's race taking place the following day.
Experian has yet to release figures for Monday, the first weekday of the Games. Transport for London said the number of people making tube journeys were 4% higher, bouyed by the number of people going to the equestrian event in Greenwich.
'Longer view'
Jace Tyrrell, director of communications at the New West End Company, which represents shops in Bond Street, Oxford Street and Regent Street in central London, said that some Londoners appeared to be staying away.
He added: "At the same time, the Olympic family - officials, sponsors and the media - are going shopping as well as to the games. And these are people that spend more than the average UK shopper.
"Also you need to take a longer term view - London is now being seen by the billions of people around the world who are watching the Olympics."
However, one trader on Oxford Street, stall-holder Vicky Munro, said her trading was currently a "complete disaster" because of the Olympics.
She added: "The tourists are not here, the local people are not here - everyone has been told to avoid central London, and they are doing it."
Experian's footfall figures for east London, where the Olympic Stadium is located in Stratford, showed that the number of shoppers in that part of the capital fell by 7.2% on Friday from a year ago, and by 7.5% on Saturday, before increasing 12.6% on Sunday.
Outside of London, shop owners in Weymouth, Dorset, which is hosting Olympic sailing events, have complained of reduced numbers of shoppers.
No 'bonanzas'
Tourist attractions in central London also saw reduced visitor numbers over the weekend, according to the Association of Leading Visitor Attractions has said.
Its chief executive Bernard Donoghue said visitor numbers were between 30% and 35% lower.
He said this was "partly because the kind of visitor you get during an Olympic year is different to any normal year, and it is also partly because people think it is going to crowded and hectic here in central London".
Hoteliers across the capital have also complained about reduced occupancy levels.
Satbir Bakshi, owner of Hotel Earls Court, told the BBC: "Everyone was expecting big, big bonanzas, but this is the worst I have seen in 30 years.
"The Olympics was all hyped up, and every hotel - including mine - put their prices up.
"But with a week to go before the start of the games, I had to put my prices back down again. Like everyone else I'm only half full. Normally I'm full at this time of the year."
Travel industry commentator Mike Bugsgang, said that despite any current problems, the Olympics would give the London tourism sector a major boost in future years.
"The brilliant opening ceremony watched by millions around the world will undoubtedly help to put London on the 'must visit' list by overseas tourists in the years to come," he said.
"This fact together with the outstanding television coverage of games events showing historic London landmarks such as Greenwich, Buckingham Palace, Hampton Court etc will play a major part in attracting tourists and their much needed spend to Britain in the future."