India's energy crisis threatens its economic growth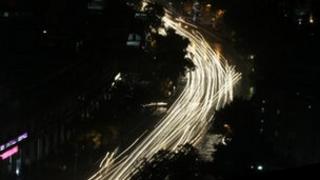 I saw India's power problem up close less than two weeks ago when the house in which I was staying in Delhi almost caught fire.
The family hosting me was one of India's burgeoning middle class. They have air-conditioning and electrical goods such as fridges and televisions as they enjoy the spoils of their success.
Unfortunately, it also means that their electricity needs far exceed the limitations of the creaking power grid that serves their northern city suburb.
As we sat in the living room, the overloaded power meter popped, unleashing a fire that fortunately was contained before too much damage was done.
And while this mix of high consumer demand and weak infrastructure was played out on a small domestic scale, over the past two days the same problems have paralysed vast chunks of the world's biggest democracy.
Economy's life and blood
On Tuesday, almost half the country's 1.2 billion people and hundreds of thousands of businesses and various essential service providers were left without power after India's northern and eastern grids broke down.
A similar breakdown hit nine states in northern India on Monday.
There are now worries that the power crisis may stifle India's growth.
"Energy is like blood in your veins. It is as vital as that to the economic growth," Rajiv Kumar, secretary general of the Federation of Indian Chambers of Commerce & Industry (FICCI), tells the BBC.
"If there is a shortage of blood, you can't function - similarly if there is a shortage of energy, the economy can't work."
'Hide behind the numbers'
India's Ministry of Power has set a goal - Mission 2012: Power for All.
However, given the current supply and demand situation in the country, it seems highly unlikely that the objective will be achieved.
India currently has an installed power generation capacity of 205,340 megawatts of electricity, according to government figures.
However, a shortage of coal means that it has not been able to utilise the full capacity. According to various estimates, India's power generation meets only 90% of total demand.
The government says it has been increasing its power generation capacity at a pace that has not been seen before.
"If you put together the eighth, ninth and 10th five-year plans and compare them with the 11th five-year plan - we have done as much in the last five years as we did in the previous 15," Sushil Kumar Shinde, India's power minister tells the BBC.
But analysts say that while the generation capacity has increased, the jump in demand has been far greater and as result the country has been playing catch-up.
"This is where the problem is, the government is trying to hide behind the numbers," says Amit Kapoor, honorary chairman of the Institute for Competitiveness.
Mr Kapoor adds that it is not just the shortfall in quantity that is hurting consumers, especially businesses, but also the quality of the electricity supply.
"For equipment to function properly, electricity needs to come at a certain frequency," he explains.
"However, there are spikes in voltage happening - and that creates havoc."
'Eroding away wealth'
All of this is having a big impact on the country's economic growth.
Mr Kumar of the FICCI says that a shortage in power supply has resulted in industries across the country being asked to slow down their manufacturing or even shut factories for a certain number of days in a month.
That is not good news for India's economy as the country's industrial output has only just started to recover, having risen at an annual rate of 2.4% in May.
"It is a serious crisis and it seems to be worsening," says Mr Kumar.
At the same time, the fear of regular electricity cuts is forcing many businesses to install their own power generation or power back-up units.
That has not only increased their capital costs, but also added to their operational expenses.
"Electricity generated by these units is up to 100% more expensive than that supplied by the regular grid," says Mr Kumar.
"This is because the majority of these back-up units generate electricity using diesel, which is more expensive than power generated from coal."
Analysts say that as costs rise due to the electricity shortage, firms are likely to see their profits dip.
"This has a bearing on any sector, be it manufacturing or services. It is eroding away wealth," Mr Kapoor from the Institute for Competitiveness says.
He adds that the increased use of power back-up units was also driving up demand for diesel and having an impact on the country's oil import bill. This adds to the current account deficit, an area of concern for many economists.
Comprehensive reforms
As India's economy expands and the population increases, the country will need to generate even more power to meet the growing demand.
India currently generates more than 65% of its total electricity from non-renewable sources of energy such as coal, gas and oil.
About 19% comes from hydro power, just over 2% from nuclear energy and 12% from other renewable sources.
Analysts say that for India to be able to meet its growing demand it needs to start taking a serious look at other sources such as solar power.
They add that the power sector is also in urgent need of reform, not just in power generation but also transmission, distribution and the pricing of electricity.
"Unless you have the reforms, you are not going to be able to handle the growing demand," says the FICCI's Mr Kumar.
India's Prime Minister Manmohan Singh has been trying to secure $400bn (£255bn) of investment in the sector.
There is hope that an investment of that scale will help ease the situation in the sector, but as with other investments in India, no one is quite sure if and when that may happen.