Spain: Action needed to tackle economy, says IMF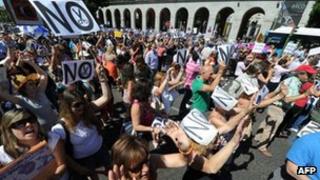 Spain is in an "unprecedented" double-dip recession and the outlook for the country remains "very difficult" with "significant downside risks", the International Monetary Fund has said.
Its annual report on the Spanish economy praised Madrid's "decisive action on many fronts", but warned further reforms were needed.
Action to cut debt and push financial reform were "critical", it said.
Earlier, figures showed Spanish unemployment hitting a fresh high.
Almost 5.7 million Spaniards are now out of work, with the jobless rate reaching 24.6% during the April to June quarter - the highest since the 1970s.
Despite the worsening jobless figures, Spanish stocks rose sharply on Friday after French President Francois Hollande and German Chancellor Angela Merkel issued a joint statement suggesting they were ready to act to save the euro.
The main Spanish Ibex share index closed up 3.9%, while France's Cac 40 rose 2.3% and Germany's Dax ended the day 1.6% higher.
Battered banks
The IMF forecast the Spanish economy to contract by 1.7% this year and 1.2% next year, before growing by 0.9% in 2014.
It said further action was needed to bring down unemployment and tackle public debts that were "increasing rapidly".
"Directors underlined the urgency of additional progress in boosting competitiveness and jobs, given the high level of unemployment, in particular among the youth," it said.
It also stressed the need for continued support for Spain's battered banking sector, and suggested the European Stability Mechanism, the eurozone's firewall fund, should be used directly to support Spanish banks.
The IMF did, however, "commend" the actions already taken by Madrid to try and turn the country's economy around, including far-reaching labour-market reforms, tax increases and sweeping budget cuts.
"Imbalances are improving, especially the current account deficit, inflation and unit labour costs," it said.
Direct action
Spain's borrowing costs on the secondary market - seen as a good indicator of investor confidence in the country - jumped above 7% earlier this week, a level widely seen as unsustainable.
This raised fears Spain may soon be forced to seek a full bailout from its European partners. The EU has already agreed to 100bn euro loan package to help recapitalise the country's highly indebted banks.
However, the borrowing costs, or yields, fell back on Thursday after the head of the European Central Bank (ECB), Mario Draghi, said the bank would do "whatever it takes" to preserve the single currency.
On Friday, Spain said it was not seeking a bailout from the EU.
"There is not going to be a bailout and a bailout is not an option," government spokeswoman Soraya Saenz de Santamaria said.
This came after reports suggested Spanish Economy Minister Luis de Guindos had raised the subject of a 300bn euro bailout at a meeting with Germany's Finance Minister Wolfgang Schaeuble earlier this week.
On Friday afternoon, Spanish bond yields stood at 6.7%.
Also on Friday:
Mr Hollande and Mrs Merkel issued a joint statement reasserting their commitment to preserving the euro. "Germany and France are deeply committed to the integrity of the eurozone," it said. "They are determined to do everything to protect the eurozone"
A report in the French newspaper Le Monde said that eurozone governments and the ECB were preparing to take action to cut borrowing costs for Spain and Italy. One way the bank could do this is to buy directly Spanish and Italian debt
But Germany's central bank, the Bundesbank, sought to quell such speculation when it stated that direct bond purchases by the ECB would be "problematic"