Airbus delays A350 XWB entry as EADS profits triple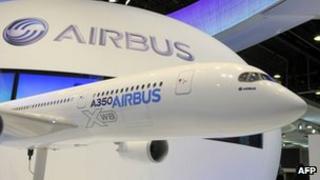 Airbus has said it will delay the introduction of its fuel-efficient A350 XWB to fix a glitch related to its wings.
The planned wide-body, which is a rival to Boeing's Dreamliner, will now be delayed by three months until the second half of 2014, forcing its parent company EADS to take a 124m euro ($152m;£97m) hit as a result.
Earlier, EADS said net profit more than tripled in the second quarter to 461m euros from 121m euros a year earlier.
EADS shares jumped 6.66% on the news.
The A350's delay is due to a production problem involving drilling holes in the plane's wings.
A350 project manager Didier Evrard said that the preparation for a new automated drilling process took longer than expected, causing production schedules to be delayed by several weeks.
The A350, which is made of carbon composite, is already a year behind schedule.
Airbus has also faced recent problems with wing cracks in its A380 superjumbo planes, which have forced clients such as Qantas Airways to delay their deliveries by almost four years until the aircraft are fully fixed.
'Hiccup with the wing cracks'
EADS chief executive Tom Enders, who took over the company in June, said: "Let's be honest: We have a problem with the A380 with the wings. Obviously, some airlines who would have put in an order this year are tempted to wait a little longer."
He told reporters he expects deliveries for the A380 to drop next year as a result of the repair.
"We do expect that the hiccup with the wing cracks and the solutions will impact deliveries and I do expect that we will not reach 30 deliveries next year," he said.
"Obviously we have a challenge dealing with the wing cracks and with customers and that will result in a temporary - temporary - delivery doubt. But we know how to fix the problem and it's well under way."
EADS, which is a consortium of aerospace and defence manufacturers from France, Germany and Spain, was upbeat about its business despite the wing problems, citing strength in Airbus and its space and Eurocopter helicopter units.
It improved its full-year guidance and said that the current sovereign debt crisis in Europe was unlikely to disrupt air traffic.
Plane manufacturers are ramping up production amid robust demand for fuel efficient aircraft, particularly from emerging markets.
EADS now expects Airbus to deliver some 580 commercial aircraft. It spelled out its goal to receive orders for between 600 and 650 aeroplanes this year.
It also expects revenue to continue to grow at around 10% in 2012. Sales in the second quarter rose 12% to 13.5bn euros compared to a year earlier.
US rival Boeing has also raised its full-year earnings on higher commercial aeroplane deliveries and defence sales.