Barclays in new FSA investigation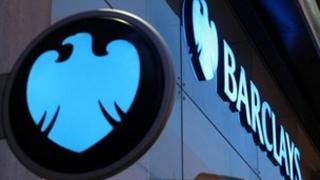 Barclays has revealed that it is under investigation by the financial watchdog over the disclosure of fees payable under unspecified deals made in 2008.
The news came as the bank's adjusted pre-tax profit for the first six months of 2012 rose 13% to £4.2bn.
It also set aside £450m to cover potential compensation to small businesses sold inappropriate financial products, its results statement said.
It comes weeks after Barclays admitted involvement in a rate-rigging scandal.
Inquiry
The Financial Services Authority (FSA) is now investigating both the bank and four current and former senior employees, including finance director Chris Lucas.
"The FSA is investigating the sufficiency of disclosure in relation to fees payable under certain commercial agreements and whether these may have related to Barclays capital raisings in June and November 2008," Barclays said.
BBC business editor Robert Peston said the deals being investigated included the funds raised from investors in Qatar and Abu Dhabi at the end of 2008, which allowed Barclays to avoid being semi-nationalised along with Royal Bank of Scotland and Lloyds.
He said Barclays sources insist there was no deliberate intent to hide fees or mislead other investors about what was paid to advisers on these transactions, and that if there were a breach of the FSA's rules, it was an oversight.
The FSA's probe also relates to a debt sale by Barclays the following year, our correspondent said.
Apology
Last month, Barclays was fined a record £290m by UK and US regulators for attempting to manipulate the Libor inter-bank lending rate.
The Libor scandal led to the resignation of chief executive Bob Diamond as well as chairman Marcus Agius, although he then agreed to stay on as executive chairman following Mr Diamond's departure.
Regarding the events of recent weeks, Mr Agius said: "We are sorry for the issues that have emerged... and recognise that we have disappointed our customers and shareholders.
"I speak for all of Barclays people when I say how determined we are to regain the full confidence of all our stakeholders; customers and clients, investors, regulators and staff alike."
Barclays' latest results beat analysts' expectations of profits of about £3.8bn and the bank's shares closed up almost 9%.
Barclays said it had seen profits rise 15% in retail and business banking and increase 11% in corporate and investment banking, "demonstrating the benefits of the universal banking model".
On a statutory basis, profit before tax fell 71% to £759m after taking a £2.9bn charge for having to account for the value of its own credit.
Return on shareholders' equity increased to 9.9% from 9.3% a year earlier, although that was below former boss Mr Diamond's target of 13%.
Bonus payments
Barclays made a "deferred bonus charge" of £655m, relating to money earned for past performance being handed out now. This marked a rise from £458m in the first half of 2011.
The bank said no awards had yet been granted in relation to the 2012 bonus pool as "decisions regarding incentive awards are not taken by the remuneration committee until the performance for the full year can be assessed".
Earlier in the week, reports suggested former chief operating officer Jerry del Missier was to receive a pay-off worth £8.75m, although Barclays has not commented on this.
Mr del Missier resigned on the same day as Mr Diamond. It had emerged that he gave instructions to staff to lower Libor rates after being told of a phone call between Mr Diamond and Paul Tucker, deputy governor of the Bank of England, about Whitehall fears over Barclays' financial health.
The previous day, Mr Agius had announced his resignation as chairman but then said he would stay on as executive chairman in order to find a new chief executive.
This week, Alison Carnwath, a non-executive director and chairman of the remuneration committee, stood down from the Barclays board for personal reasons.